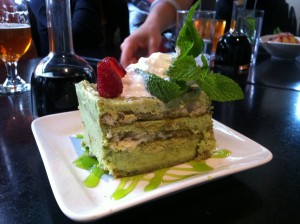 One thing we know how to do well in Seattle is eat our seafood. And we know how to party hardy while doing so. The second Seattle-APALA social was an exemplary example of this! We went from five people attending our first social to ten coming to our second one. We're doing something right, maybe next time we'll get 20!
It was so wonderful to see so many intelligent UW iSchool students and our colleagues who were attending the Medical Library Association conference. Thank you for making time for us!
Now double in size, it was no longer convenient to meet at the Bookstore Bar. Instead, Ann Crewdson made arrangements for us to meet in downtown Seattle at Japonessa restaurant. Our members enjoyed sushi, cocktails and dessert. Monica Caraway wisely chose the green-tea tiramisu which was to die for. Ann kept lusting after it after since she had chosen the bland crème brulee.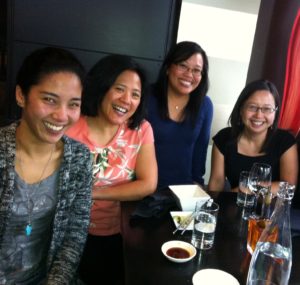 Rinna introduced us to her website Khmerican.com, which is "an online platform that encourages public engagement, discussion and connection of Khmer communities across the US and abroad and publishes original content and provide resources on and about Khmer America." Julie Ann Oiye, Youth Services Manager for the Seattle Public Library was on deck to answer questions from the infinite library world. We talked about the bamboo ceiling and exchanged email addresses to set up future internship opportunities. We also discovered that many of us were children's librarians and shared collective knowledge on summer reading programs. King County Library System and Tacoma Public will be using the CLSP theme "Dream Big and READ" while Seattle Public Library's SRP is tied to the 50th Anniversary of the Seattle Center and there's children's, teen and adult components with an opportunity to win a Kindle e-reader.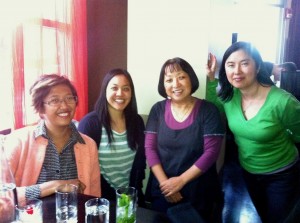 Maria is a great story teller and Beatriz is the chair REFORMA's Mora Award Committee and a member of the Odyssey Award Committee for 2012. Becka has done an excellent job as the membership coordinator. She has not only united us but we also gained a new member at the dinner. A big public thank you *applause* for all her hard work.
We walked away with a great sense of comradarie. The only thing that could have made the night better was if we had a bigger venue where we could hear everyone a little easier.
Since the Anaheim conference is in June, we decided to skip a month. Our next Seattle-APALA mixer will be in July.
Thank you, Maria, for taking the photos to capture the wonderful memories!
[author] [author_image timthumb='on']http://www.apalaweb.org/wp-content/uploads/2012/05/ann_crewdson.jpeg[/author_image] [author_info]Ann Crewdson is a Children's Section Supervisor with the Issaquah/Sammamish Libraries // King County Library System. She is currently serving as ALA Councilor-at-Large for the 2011-2013 term. She recently discovered APALA and has gotten involved in organizing socials in the Seattle area.[/author_info] [/author]