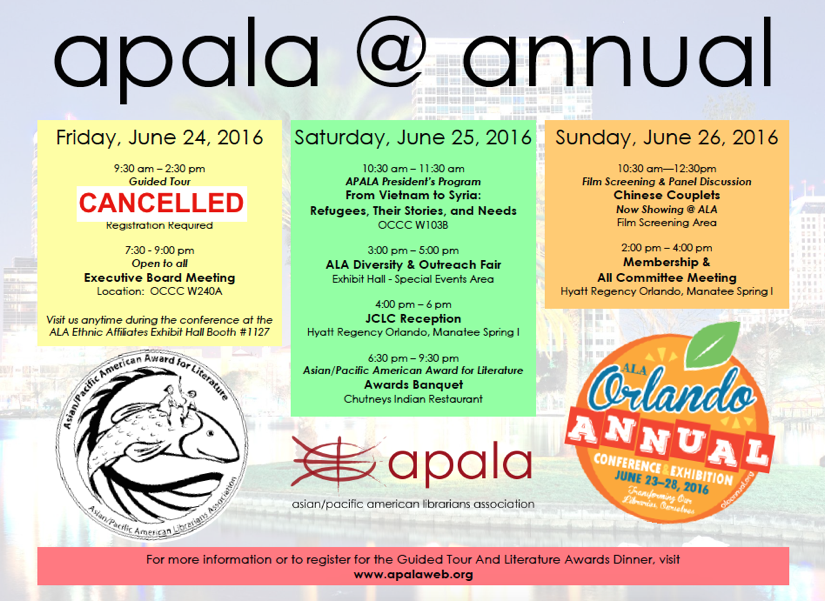 APALA events at 2016 ALA Annual Conference in Orlando is listed below. For more information about ALA 2016, check out the ALA information page.
Friday, June 24, 2016
No host lunch with APALA

12noon
Location: Funky Monkey Bistro (9101 International Drive, Ste 1208, Orlando, FL 32819) – 0.5 mile walk from convention center
If desired: Meet at 11:45 by the registration area to walk over together or meet at the restaurant at 12noon

Join APALA members for a no host lunch at Funky Monkey Bistro. We will be supporting a locally owned and operated restaurant and their Executive Chef, Ashley Nickell, has been on Food Network's Cutthroat Kitchen (2014) and will be on Hell's Kitchen with Gordon Ramsey in 2016. Here is their lunch menu: http://www.funkymonkeywine.com/#!lunch-menu/c1iq2. Contact Ven Basco (buenaventura.basco@ucf.edu) for further information. RSVP to Ven by Thursday, June 23rd.
Executive Board Meeting

7:30 – 9:00 pm
Location:  Orange County Convention Center (OCCC) W240A
Saturday, June 25, 2016
President's Program: From Vietnam to Syria: Refugees, Their Stories, and Needs.

10:30 am – 11:30 am
Location: Orange County Convention Center (OCCC) W103B

The APALA President's program, co-sponsored by IRRT and REFORMA, "From Vietnam to Syria: Refugees, their Stories, and Needs" explores the many parallels between the refugee crisis during the Vietnam War, the current crisis in the Middle East, and refugees crossing the Southern border of the United States.  The program will include: stories from Vietnamese Americans about resettling in the local Orlando area from Krsytle and Thuy Vincent Nguyen; an overview of the work of REFORMA's "Children in Crisis Task Force" from Ady Huertas and Oralia Garza de Cortés; information about the Syrian refugee crisis from Laila Hussain Moustafa; and tips and strategies for helping libraries and librarians to serve refugee communities from Touger Vang.

ALA Ethnic Affiliates Exhibit Booth Exhibits Hall

Time: TBA
Location: Exhibits Hall – Booth # TBA

ALA Diversity & Outreach Fair

3:00 pm – 5:00 pm
Location: Exhibit Hall – Special Events Area

Asian/Pacific American Award for Literature (APAAL) Awards Banquet

6:30 pm – 9:30 pm
Location: Chutneys Indian Restaurant

The celebratory evening includes a dinner buffet, literature awards presentation and will feature several of our award winning authors. Following the formal presentation and dinner buffet, authors will be available for book signing.
Advance Registration for Members is $35, and non-members is $40. After June 10, 2016, $40 for members and $45 non-members, $50 on site.

Tickets can be purchased online at: http://www.apalaweb.org
Sunday, June 26, 2016
All Committee Meeting

2:00 pm – 4:00 pm
Location: Hyatt Manatee Spring I

Now Showing @ ALA

10:30 am
Location: Film Screening Area

APALA is sponsoring a screening of the film Chinese Couplets as part of Now Showing @ ALA Annual Conference.  The film will be followed by a Q&A and panel discussion that includes EMMY winning filmmaker Felicia Lowe, Erika Lee, Director of the Immigration History Research Center, and the Rudolph J. Vecoli Chair in Immigration History at the University of Minnesota, Melissa I. Cardenas-Dow, Reference Librarian, University of California, Riverside, and  moderator Gary Colmenar, Librarian, University of California, Santa Barbara.
Chinese Couplets is part memoir, part history, part investigation, the filmmaker's search for answers about her mother's emigration to America during the Chinese Exclusion era reveals the often painful price paid by immigrants who abandoned their personal identity, the burden of silence they passed on to their offspring and the intergenerational strife between immigrants and their American born children.

APALA Extra-curricular! Bob Marley- A Tribute to Freedom Restaurant, Universal CityWalk

7:00pm – Dinner (RSVP required)
9:00pm – Live reggae band, dancing and …..
Location: Bob Marley A Tribute to Freedom Restaurant (

6000 Universal Blvd #730, Orlando, FL 32819

)
Dinner: The cuisine features Jamaican-influenced appetizers, entrees and desserts. Some of the most popular items are the Oxtail Stew, the Sun is Shining grilled chicken breast marinated in Jamaican curry sauce, and the Taste of Jamaica appetizer platter featuring veggie & beef patties, mango wings and yucca fries.
After dinner, join us for music and dancing. It is ladies' night so no cover for ladies until midnight (Men $7 – sorry about that!). Drink specials all night. Must be 21+ for admission. Valid photo ID required. Live reggae band and a DJ in the courtyard every night.
Contact APALA Local Planning Annual 2016 – Orlando member Cynthia del Rosario (cyn@uw.edu) with your questions.