DPLA: A Vast Ocean of Information
by Jaena Rae Cabrera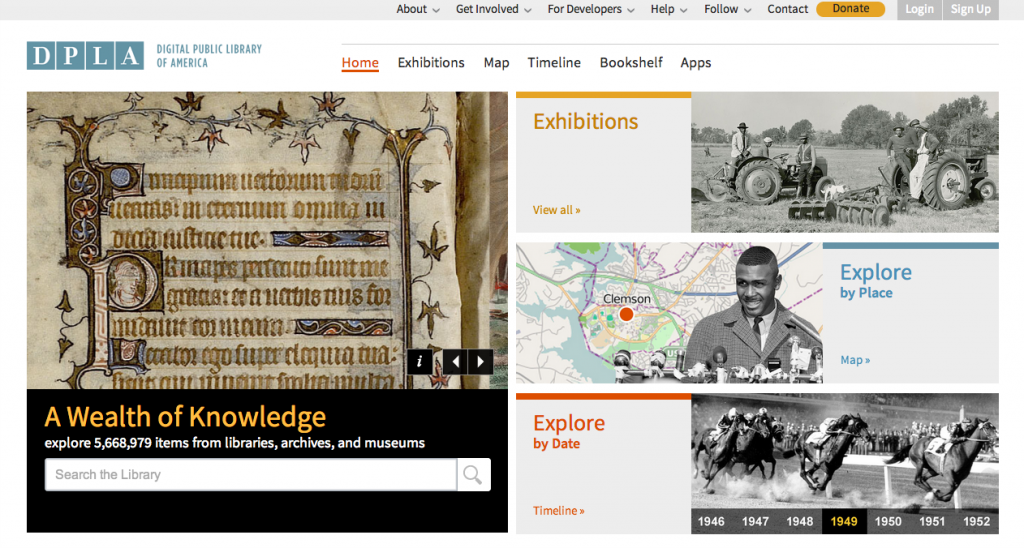 I first learned about the Digital Public Library of America while studying for my MLIS at Syracuse University. When I heard about their call out for Community Reps, I figured it would be a good way for me to learn more about the DPLA, as well as an opportunity to meet others with similar interests in open access, digitization, etc. For DPLA, the community reps program helps them connect with local communities. Community reps assist with community outreach, not content recruitment, aggregation, or digitization.
From their FAQ page: DPLA "brings together the riches of America's libraries, archives, and museums, and makes them freely available to the world. It strives to contain the full breadth of human expression, from the written word, to works of art and culture, to records of America's heritage, to the efforts and data of science. The DPLA aims to expand this crucial realm of openly available materials, and make those riches more easily discovered and more widely usable and used."
As a community rep, I also see an opportunity to explore DPLA's definition of "America's heritage" and how much (or how little) it includes the APA community, perhaps with the help of the APALA community.
This first post is meant as an introduction or overview of the DPLA.
The DPLA homepage highlights its function as a portal of discovery. Through the DPLA, students, teachers and the public have access to over 5.6 million items—photographs, manuscripts, books, sounds, moving images, and more—from libraries, archives, and museums around the United States.
Users may browse and search the DPLA's collections by timeline, map, visual bookshelf, format, and topic; save items to customized lists; and share their lists with others. Users can also explore digital exhibitions curated by the DPLA's content partners and staff.
Where does DPLA content come from?
One important distinction to note is that the DPLA aggregates metadata records—the information that describes an item, such as its creator, date, place, provenance and so forth—not the content itself. Each record in the DPLA links to the original object on the actual content provider's website.
Content providers are either service or content hubs.
Content Hubs
The content hubs are large digital libraries, museums, archives, or repositories that maintain a one-­to-­one relationship with the DPLA. Content hubs provide more than 250,000 unique metadata records that resolve to digital objects (online texts, photographs, manuscript material, art work, etc.) to the DPLA, and commit to maintaining and editing those records as needed.
As of December 2013, the content hubs include the following institutions:
ARTstor
Biodiversity Heritage Library
David Rumsey Map Collection
Harvard Library
HathiTrust Digital Library
National Archives and Records Administration (NARA)
New York Public Library
Smithsonian Institution
University of Illinois at Urbana—Champaign
University of Southern California libraries
University of Virginia
Service Hubs
Conversely, service hubs are state or regional digital libraries that aggregate information about digital objects from libraries, archives, museums, and other cultural heritage institutions within its given state or region. Each service hub offers its state or regional partners a full menu of standardized digital services, including digitization, metadata assistance and training, data aggregation and storage services, as well as locally hosted community outreach programs, bringing users in contact with digital content of local relevance.
As of December 2013, DPLA's service hubs include the following institutions:
Digital Commonwealth (Massachusetts)
Digital Library of Georgia
Empire State Digital Network (New York)
Kentucky Digital Library
Minnesota Digital Library
Mountain West Digital Library (Utah, Nevada, Southern Idaho, Arizona)
North Carolina Digital Heritage Center
Portal to Texas History
South Carolina Digital Library
Here's an analogy to help visualize the service hub relationship: Imagine your local historical society or public library as a pond, containing unique cultural content. Ponds send their content through tributaries to lakes, the service hubs, which aggregate data from the various cultural heritage institutions across their state or region, the ponds. The service hubs then feed this content through rivers to the ocean, the DPLA.
Pond             –>                           Lakes                              –> Ocean
Local public library –> Service hubs like Digital Commonwealth –> DPLA
The DPLA API
A unique characteristic of DPLA is it also acts as a platform that enables users to creative new and transformative uses of digitized cultural material. With an application programming interface (API) and maximally open data, the DPLA can be used by software developers, researchers, and others to create novel environments for learning, tools for discovery, and apps.
Through the DPLA's powerful, open API, developers can build tools, programs, widgets, and plug­-ins.
(An API is a set of routines, protocols, and digital tools for building software applications. A good API makes it easier for a developer to create an application that makes use of a particular set or sets of data by providing all the building blocks needed to integrate into his or her design. For example, Twitter releases its API to the public so that other software developers can design products that are powered by its service.)
The DPLA App Library contains applications built by independent developers interested in seeing what open cultural heritage data can look like in different contexts.
OpenPics, for example, is an open source iOS application for viewing images from multiple remote sources, including the DPLA API.
Culture Collage is another simple tool that lets you search the DPLA's image archives and view the results in a stream of images. Just keep scrolling to fetch more. You can click on an image to save it to a scrapbook without losing your position in the stream.
So far, being a DPLA community rep has been pretty low maintenance, but it is still in the early stages of the program. This post is really my first foray into community outreach for DPLA, although I am looking in to doing presentations or webinars for local library branches. I think it would also be fun to view and use the DPLA through a variety of lenses and information uses. It has so many different access points that the results could be pretty fascinating. On Twitter, I also plan to start posting interesting APA finds with the hashtag #DPLAfinds.
In future posts, I will explore DPLA's access to APA collections via its different search options. If you have used DPLA for research before, please feel free to share your experiences with me at jaenarae@gmail.com, or tweet me @jaenarae with the hashtag #DPLAfinds. Please feel free to contact me with any more specific queries about DPLA, or if you might be interested in a webinar or presentation. 
Editing assistance provided by Alyssa Jocson.