by Melissa I. Cardenas-Dow
Some time in mid-April 2014, I had a brief conversation with Donna Graves, Project Co-Director of East at Main Street, a mapping project of the Asian & Pacific Islander Americans in Historic Preservation (APIAHiP) and located online in the crowd-sourced, web-based mapping tool, HistoryPin. Please visit East at Main Street and contribute! URL: http://www.historypin.com/project/51-east-at-main-street
Below is an article on our online conversation, edited for clarity and brevity.
Melissa Cardenas-Dow (MICD): Thanks for agreeing to speak with me about APIAHiP and the East at Main Street Mapping Project. First, can you tell us a little bit about yourself, your role in APIAHiP and the Mapping Project?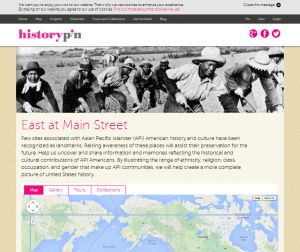 Donna Graves (DG): I am a public historian and community planner based in Northern California. I am the Co-Director of the East at Main Street Mapping Project with Michelle Magalong.APIAHiP is a grassroots organization of people who are committed to preserving historic and cultural places important to diverse APIA communities.
APIAHiP has, to-date, conducted two national forums that have been attended by approximately 300 people. These gatherings have been very inspiring and encouraging, bringing together many different people from a variety of fields and backgrounds, sharing practices and expertise. The third national forum will be held in September 2014 in Washington DC. Even though these forums have been wonderful, we wanted to find a way for people who may not be able to attend them to participate and engage in historic preservation of Asian/Pacific Islander American heritage. The East at Main Street Mapping Project on HistoryPin is one way for us to accomplish this. It's a newly launched project that allows participants to share photos, text, images, and videos about important places from their personal or institutional collections. We are combining memories captured through digital objects and place-based or location-based gathering.
MICD: So, if I understand you correctly, hypothetically speaking, old photographs of a street corner where my great uncle would gather with his other Asian American peers and transcripts from an interview I conducted with him are welcome?
DG: Yes! We are interested in a broad range of sources, not just known, identified, and designated historic landmarks. We hope to uncover knowledge of life and cultural practices from various perspectives. A parade route, for instance, would be a great cultural practice to record. We accept images, video clips, and text pinned onto the HistoryPin map of the East at Main Street Project. We want to see both more scholarly-based and more community-based information shared on the Project map.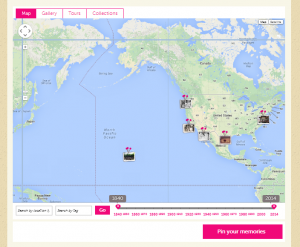 MICD: What goals or purpose does the East at Main Street Mapping Project hope to achieve?
DG: Broadly speaking, we hope to achieve greater, wider exposure to the APIA communities' contributions to American history. Just speaking about historic landmarks alone, less than 5% of sites on the National Register are significant to communities of color.
In another sense, East at Main Street Mapping Project is very timely. The National Park Service is currently conducting the first national theme study done about APIA history and historic sites. Their process tends to be more academic and it can be really difficult to ground the scholarship to place and geography. East at Main Street is a promising complement to bridge scholarly and community-based knowledge about APIA heritage.
Michelle and I are on the Advisory Committee for the NPS study. East at Main Street Mapping Project is partially funded by the NPS National Center for Preservation Training and Technology. In this context, we see the purpose of East at Main Street as: 1) aid the NPS theme study; and 2) raise the visibility of APIA historic sites and landmarks, as well as sites significant to community-based and cultural practices.
MICD: Do the submissions go through any kind of review process before it goes up onto the map?
DG: Our emphasis for the East at Main Street Mapping Project is not to come up with a heavily curated collection of information and sites. We are very much interested in enabling community visibility and participation. The first tier of review is done by HistoryPin, after that Michelle and I go through the submissions. We've found that East at Main Street is a great way to able to extend the life of the community history work people may have already done. Pinning information on the map allows organizations to find a new audience for projects and scholarship that is being done on this subject, and, we hope, will make East at Main Street Mapping Project a new venue for this type of knowledge-sharing and discussion.
MICD: What message would you give to users and other organizations to communicate the value of East at Main Street Mapping Project?
DG: We are very much interested in raising community participation, so we've been conducting workshops on the East Coast and will be scheduling Google Hangout sessions and webinars. The next workshop will be held at the Riverside Municipal Museum in Riverside, Calif. on Saturday, May 31, 2014, from 10:00 to 11:30 a.m.  Please rsvp, since space is limited.
For more information, please refer to the APIAHiP blog http://apiahipmappingproject.blogspot.com.  More workshops and webinars are being planned and will be posted on the blog as soon as details are ready.
Interested in participating? Please see the Getting Started booklet available at http://blog.historypin.com/wp-content/uploads/2014/04/East-At-Main_Getting-Started-Guide-final.pdf.
Editing assistance provided by Donna Graves and Jeremiah Paschke-Wood.