By Dawn K. Wing
In 2014, I moved from my native New York City, one of the most diverse places in the world, to Long Island, NY –where housing and school segregation still continues even years after Brown vs. Board of Education. I moved specifically to Long Island's Suffolk County where there had been an alarming rise of hate crimes towards minorities, specifically Latino immigrants a few years before. I made this move for my current library position, an opportunity for which I am truly grateful as it has allowed me to grow professionally and personally.  As a minority, however, I found it difficult to deal with the xenophobia and culture shock.
I struggled with the social isolation characteristic of suburbia. I also had a hard time processing the overt racism that I was personally experiencing. Once, while locking my bicycle to a lamp post on the street and alone, a group of Caucasian men  laughed and spoke in faux-Chinese gibberish as they passed by me.  Although I immediately hollered at them in self-defense and received a weak apology from one of them,  I have become more guarded when walking alone in suburban neighborhoods. Until moving here, I had never witnessed such frequent acts of verbal harassment and hostility towards Latinos in open, public spaces.
It was already hard enough to meet people in a new place where most people do not know or interact with their neighbors, strangers keep to themselves, and homogeneity reigns. Having the additional trauma of racist experiences did not help. I longed to connect with other folks of color and anti-racist allies with whom I could find solidarity. My friends and family were not close by. I felt vulnerable, frustrated, and alone.
However, by becoming more involved with student activities by attending meetings with the Anime Club and co-advising the Asian Culture Club, I found kindred spirits. I engaged with other faculty and students of color who also had to deal with racism on Long Island, yet were positively influencing their peers through intercultural education and leadership. Outside of the college, I began volunteering with Community Solidarity, a non-profit food share whose mission addresses problems with poverty, social inequality and racism.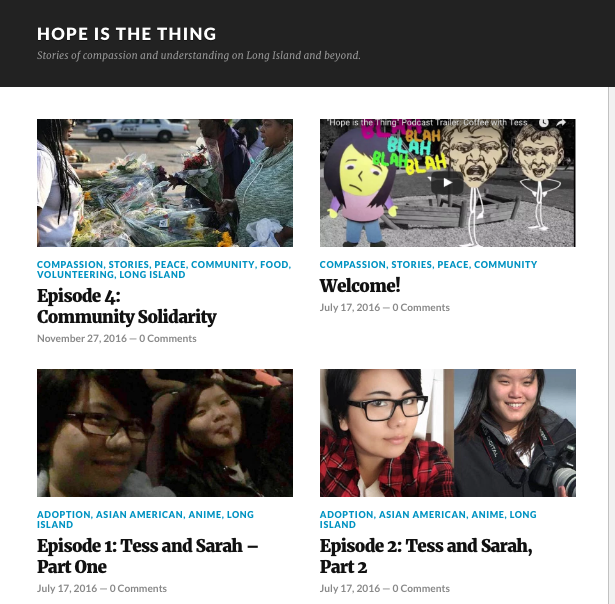 After connecting with members of these organizations, I was inspired to start a podcast of interviews with local community members involved in activism, creativity and education. I was curious about their particular struggles and how they overcame them. I wanted the voices of these youth leaders and activists, who were dedicated to promoting compassion and human understanding, to be heard by  a wider audience– an audience that may include listeners who may feel hopeless, estranged and isolated where they live as I had initially felt in my new, unfamiliar environment.
By sharing these stories of compassion, I decided the process of generating these podcast episodes would both be a means for me to connect more deeply with folks I work with and to also inspire listeners to initiate positive changes in their lives. In September 2016, my podcast "Hope is the thing" went live. The title of this project comes from Emily Dickinson's poem, "Hope" is the thing with feathers – (314).
Currently, there are four episodes covering APA student leaders and Community Solidarity volunteers discussing their life interests, art, activism, and education as a means of survival and human connection. Although all interview subjects are from Suffolk County, I am open to interviewing anyone from anywhere doing something they are passionate about while making meaningful contributions (art, education, activism, etc.) to their community, particularly if those efforts impact people of color.
Interested in creating your own community podcast program? It's easy. All you need is a digital recorder (most, if not all, smartphones have one built-in) and internet access. Recording, editing and uploading interviews  can be easy and free. To record interviews, I use the "Voice Recorder" app on my phone. To edit audio, I use Audacity. Finally, I usually upload final clips onto Google Drive and share it through a WordPress site. There are many options to host podcast episodes and I am still trying out options such as SoundCloud and Podbean. The latter two are limited in their data storage under their free plans, so I am sticking with Google Drive for now. Another bonus for me is also being able to continue my own creativity by producing visual animations of select podcast interview clips using Adobe Creative Cloud apps and YouTube.
As a media librarian, this aspect of accessibility to produce and share stories is truly exciting. I look forward to seeing this project evolve and hope more alternative forms of media expand, especially in preserving the diverse voices of resistance in our communities.
---
Dawn Wing is the media services librarian at Suffolk County Community College, NY.
You may listen to "Hope is the thing" podcast online at http://hopeisthethingblog.wordpress.com.
Got ideas or want so share your story on the podcast?
Email Dawn at scccdawn(at)gmail.com