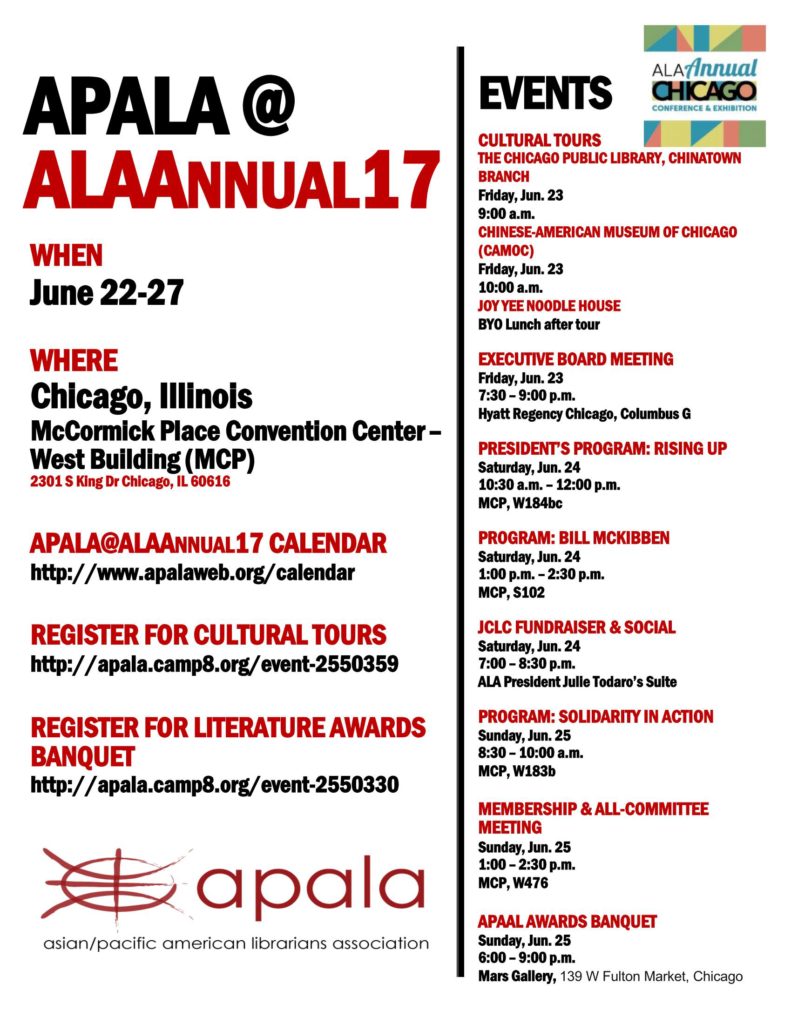 Friday, June 23
9 a.m. – 12 p.m.
Annual APALA Cultural Tour
9 a.m. — Tour of The Chicago Public Library, Chinatown Branch
Since first opening their doors in 1873, The Chicago Public Library has served all Chicagoans with free and open places to gather, learn, connect, read, and be transformed. The new 16,000-square-foot, two-story Chinatown Branch opened August 29, 2015 with a partially covered "living" roof, Feng shui-influenced interior design, and expansive views of the city.
10 a.m. — Tour of the Chinese-American Museum of Chicago (CAMOC)
The mission of the Chinese-American Museum of Chicago (CAMOC) is to promote the culture and history––through exhibitions, education, and research––of Chinese-Americans in the Midwest. The museum building, formerly the Quong Yick Co., is located in Chicago's Chinatown, at 238 West 23rd Street in Chicago. The Museum opened to the public on May 21, 2005. After a devastating fire in September 2008, the Museum was closed for renovation and reopened in 2010.
Location: 2139 S China Pl, Chicago, IL 60616
7:30 – 9 p.m.
APALA Executive Board meeting
Location: Hyatt Regency Chicago, Columbus G
Saturday, June 24
10:30 a.m. – 12 p.m.
APALA President's Program
Rising Up: South Asian, Muslim, Arab, and Sikh Communities Reshape America
Over the past 15 years, we have witnessed a rise in xenophobia, racial anxiety and Islamophobia in the United States. On the frontlines of this backlash are Muslim, Arab, Sikh and South Asian communities. Join us for a book talk with Deepa Iyer, author of the award-winning We Too Sing America: South Asian, Muslim, Arab and Sikh Communities Shape Our Multiracial Future, to discuss the implications of the domestic War on Terror and the power of storytelling as a means of resistance and solidarity. Book signing to follow.
Co-sponsors: ALA-ODLOS, EMIERT, SRRT
Location: McCormick Place, W184bc
1 – 2:30 p.m.
Bill McKibben has written over a dozen books including his 1989 book, The End of Nature, which is regarded as the first book for a general audience about climate change and has appeared in 24 languages. He is a founder of 350.org, the first planet-wide, grassroots climate change movement, which has organized twenty thousand rallies around the world in every country save North Korea, spearheaded the resistance to the Keystone Pipeline, and launched the fast-growing fossil fuel divestment movement.
Co-sponsors: AILA, SustainRT, SRRT
Location: McCormick Place, S102
7 – 8:30 p.m.
JCLC Fundraiser & Social
Location: ALA President Julie Todaro's Suite
Hyatt Regency Chicago, Monarch Suite #3474
151 E Upper Wacker Dr, Chicago, IL 60601
Sunday, June 25
8:30 – 10 a.m.
Current politics include a call for an Executive Order blocking citizens of seven Muslim-majority countries, refugees or otherwise, from entering the United States. While this nativism is not new, dating back to 9/11 and before, examples like this show how crucial xenophobia remains for American nationalism. Come hear award winning author/attorney/activist Deepa Iyer discuss the targeting of South Asian, Arab, Muslim and Sikh Americans and the tools we can use to dismantle Islamophobia and xenophobia, while supporting the communities that we serve.
Co-sponsors: ALA-ODLOS, EMIERT, SRRT
Location: McCormick Place, W183b
1 – 2:30 p.m.
Location: McCormick Place, W476
6 – 9 p.m.
Location: Mars Gallery, 1139 W Fulton Market, Chicago, IL 60607