Janine Joseph is a poet and Assistant professor at Oklahoma State University. Her book, Driving without a License is the winner of the 2014 Kundiman Prize and a finalist for the 2017 Oklahoma Book Award. It is available through Powell's Books, Amazon, or your local book store.
Molly Higgins (MH): Please introduce yourself and briefly describe your literary work and career path to date.
Janine Joseph (JJ): I am the author of Driving without a License (Alice James Books, 2016), which was the winner of the 2014 Kundiman Prize and a finalist for the 2017 Oklahoma Book Award. I was born in the Philippines and, at the age of eight, immigrated to the U.S., where I ended up living undocumented for fifteen years. Currently, I live in Stillwater, OK and am an Assistant Professor of Creative Writing at Oklahoma State University. I am also an active member of the Undocupoets, a group that promotes the work of undocumented poets and raises consciousness about the structural barriers that they face in the literary community.
In addition to writing poetry and essays, I have written three commissioned libretti for the Houston Grand Opera's community-focused initiative, HGOco: What Wings They Were: The Case of Emeline (2016), On This Muddy Water: Voices from the Houston Ship Channel (2014), and From My Mother's Mother (2012).
MH: Your book Driving without a License deals with your experiences as an undocumented immigrant. Can you tell me about why you decided to share your experiences publicly and why you chose poetry as your medium?
JJ: I learned that I was undocumented when I received my federal Student Aid Report in the mail during my senior year of high school. The letter stated that "[t]he Social Security Administration (SSA) did not confirm that [I was] a U.S. Citizen," which eventually meant that I had to turn down all of my college acceptances and accompanying scholarships.
Toni Morrison once said, "If there's a book you want to read, but it hasn't been written yet, then you must write it." Whether or not I was cognizant of it at the time, I began my work on the book that would become Driving without a License soon after graduating high school because I understood, in a very sudden and tangible way, that I had a story to tell. More—and because I grew up in a household that subscribed to and read the newspaper every day—I knew even then that my experiences ran counter to the (still) dominant narratives about the lives and geographic origins of undocumented immigrants in America. I first set out to write a novel informed by my experiences as an undocumented person, but quickly realized that the best way I could tell my specific story was to approach it from numerous and varied angles. Immigration, after all, is a multi-faceted issue. What it meant for me to be an undocumented immigrant from the Philippines—a country that, as was once explained to me by a lawyer, had long reached its quota of immigrants here in the United States—meant living in limbo for several years. I immigrated in 1991 and became a naturalized citizen in 2011. It was impossible for me to tell a straightforward, linear immigration narrative wherein I easily immigrated, overcame adversity, assimilated, and then achieved the American Dream. Poetry allowed me to approach my story a fragment at a time. More, though it had been a fairly private and personal art and undertaking when I was younger, poetry became a voice and vocation that required no one's permission or authorization but mine.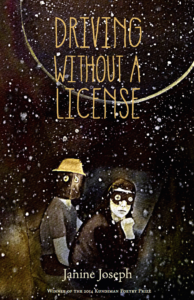 MH: You're a previous Kundiman Fellow and your book won the 2014 Kundiman Prize. Can you tell us a little more about what Kundiman is and how they help support Asian American writers?
JJ: Co-founded by Sarah Gambito and Joseph O. Legaspi, Kundiman is "a nonprofit organization dedicated to nurturing generations of writers and readers of Asian American literature." In 2004, Kundiman held its very first annual writing retreat, then only open to poets, at the University of Virginia. In addition to the retreat, Kundiman now "encompass an annual Poetry Prize, Fiction fellows, a Creative Nonfiction Intensive, unique storytelling projects (Kavad), scores of readings and workshops, and eight regional chapters across the United States." Poet Cathy Linh Che currently serves as the organization's Executive Director.
My involvement with Kundiman has spanned over a decade. I became a fellow in 2007 and was in attendance at the first retreat open to fiction writers in 2015. I was fortunate enough, too, to return to the 2017 as staff and to welcome the new cohort of fellows.
MH:  Do you think your personal identity influences your writing and/or the diversity of your readership? How?
JJ: I do, and am someone whose poems, even when incorporating outside research or influences, begin with a personal, lived experience. I like being able to locate myself at all times, even if I might be in the periphery of a piece of writing. I think my experiences, particularly my experience coming of age in America as an undocumented immigrant, reaches people in different and sometimes unexpected ways. I haven't, for example, done a single public reading since the release of Driving without a License, without someone sharing with me their own experience of this country's immigration system. These interactions, in turn, continue to shape the person and history of who I am. It affects how I imagine who might be reading and listening.
MH:   We're always looking for more to read. Who are some authors we should we be reading? Why?
JJ: I would be remiss not to recommend the remarkable and necessary work of some of the poets whose paths I've crossed in my time with Undocupoets. Here is a list of the books by the founders and active members of the Undocupoets Campaign: Marcelo Hernandez Castillo's forthcoming poetry collection, Cenzóntle (BOA Editions, 2018), and memoir, Children of the Land (Harper Collins); Esther Lin's forthcoming chapbook, The Ghost Wife (Poetry Society of America); Christopher Soto's Sad Girl Poems (Sibling Rivalry Press, 2016); and Javier Zamora's Unaccompanied (Copper Canyon Press, 2017).
MH:  You're being interviewed by a librarian, for an audience of progressive Asian American librarians. What are your thoughts on libraries, and their place in building diverse communities?
JJ: Thank you, first of all, for inviting me to do this interview and for taking an interest in my work and sharing it with libraries. I've been thinking about this question for some time now and realizing that my memory of libraries doesn't really start until I immigrated to America. I think back on how truly little we had when we moved into our first home in California and how my parents would always take my brothers and I to the library to browse for hours. I borrowed, always, the maximum and read everything from fantasy novels to National Geographic to encyclopedias. I checked out craft books and filled my otherwise empty room with trinkets made by hand. I made some of my first American friends in school by showing them the things I'd made with paper, string, glue, markers, and staples. I knew my best friends by whether or not they wanted to accompany me to the library. To say that I don't know who I would be without libraries would be an understatement. The way I move about the world and, quite frankly, how I know to navigate the Internet is informed by library systems.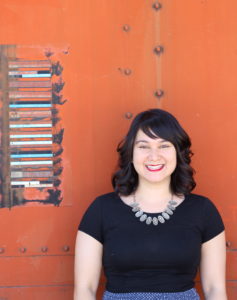 MH: What advice would you give young professionals, especially those from diverse backgrounds, who are interested in a career in writing, especially in poetry?
JJ: I love Paisley Rekdal's (APALA Author Interview, September 2017) advice to develop an exercise plan to stay in shape when writing and working on a book project. When I was working on the final edits the summer before Driving without a License came out, I trained and lifted—and I'm talking here about Olympic-style weightlifting—with two close female friends. Beyond literal exercise, though, it is important to be present in one's overall life. I love a poem that engages with the world—that reads books, that looks up from the table, that speaks and listens to all of its neighbors. I think it's important to stay "in shape" in a number of ways, beginning with not living, reading, and writing in a vacuum. And, finally: be patient with yourself and with the evolution of your work.
You can follow Janine on social media at:
Twitter: @ninejoseph
Website: www.janinejoseph.com
---
Editing assistance provided by Anastasia Chiu.