Naomi Hirahara is an Edgar Award-winning author of the Mas Arai mystery series, which features a Japanese American gardener and atomic bomb survivor who solves crimes. Her latest book, "Hiroshima Boy," will publish March 13, 2018. It will be available through Amazon or your local bookstore.
---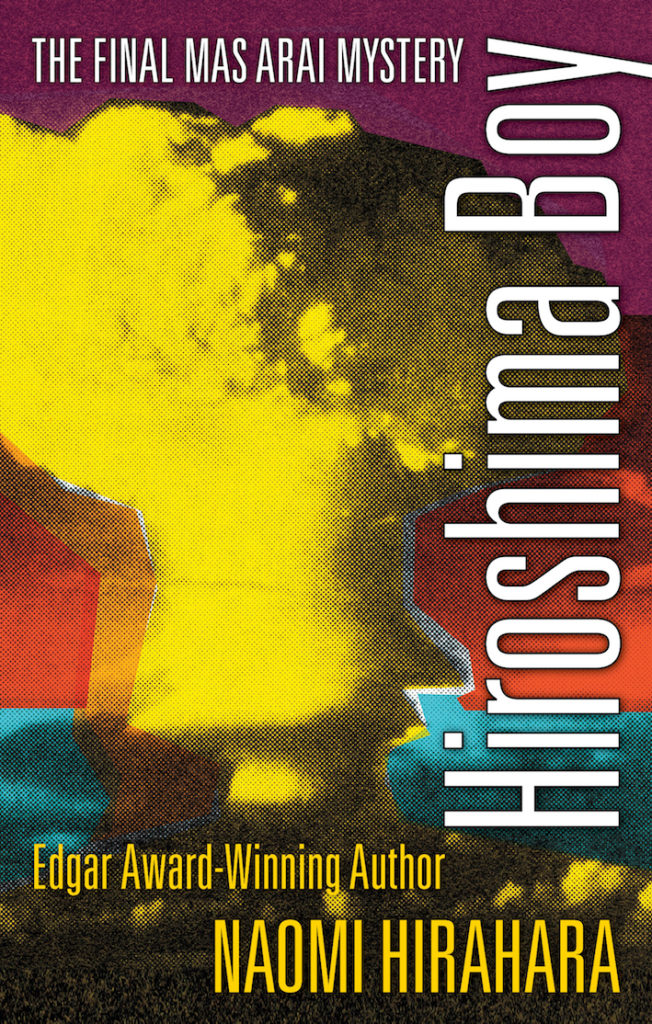 Michael Habata: I understand that you were able to obtain a research grant to spend time in Japan in Hiroshima and the smaller island that is the model for the book's setting. What is the research process like for an author for this kind of book? What kind of research takes place before your trip, and what did you do during your time in Japan? Was there some kind of professional or personal growth that happened during the trip that you did not anticipate?
Naomi Hirahara: To tell you honestly, I was scared out of my mind to write a mystery entirely set in a foreign country, specifically Hiroshima. While I can speak Japanese and had spent some time in Hiroshima as a child and young adult, I had not visited Japan for a long period of time. Japan is a very closed society and even I, a person of Japanese descent, is viewed as a gaijin, an outsider. Their police procedures are more secretive (you aren't going to see "Cops Japan" on TV), so I was most concerned about properly reflecting law enforcement in Japan. As a result, I purposely chose to set my mystery on a relatively isolated island outside of Hiroshima. There's currently no police presence and even few Japanese travel to this island. As my relatives manage a retirement home on the island, I was able to get an inside view of the goings-on.
The island itself has a very haunting history as thousands of Hiroshima residents traveled on makeshift rafts to find refuge the days after the atomic bombing. Later an orphanage and retirement home were built. That so many people with tragic histories have stayed on the island make it a setting rich on meditations on outsiders and loss.
---
Michael: Can you talk about the title of the novel, Hiroshima Boy? In simple plot terms, I believe it refers to the boy who is discovered drowned early in the novel, Sora Tani, but what other meanings does it have? Is the title also referring to the young Mas, who left Hiroshima for the U.S. as a teenager?
Naomi: Yes, Hiroshima Boy definitely refers to the current-day victim as well as Mas.
---
Michael: Please talk about how you came about deciding to make the protagonist of your mystery books an older Japanese American gardener. Was it partly a decision to do something different that what existed in the field of mystery fiction at the time you were writing the first book?
Naomi: I've always had a soft spot for older men, probably from my years working at a Japanese American newspaper and hearing their stories. Also, I wanted to write about a Hiroshima survivor but in the context of the present day — so those desires naturally made my protagonist older. I've definitely been inspired by a number of African American mystery writers — Chester Himes, Walter Mosley, and Barbara Neely — who have featured marginalized protagonists and little-known social networks.
---
Michael: I've been impressed with your use of both the Japanese language in the Mas Arai series (and Spanish in your other detective series about the bicycle cop Ellie Rush), placing Japanese words in the text with a short translation or making the meaning clear through context. Mas also uses a colloquial form of English similar to what some immigrant Japanese Americans might have used. Was that more difficult in Hiroshima Boy because it is set in Japan, where most of the characters would be speaking Japanese?
Naomi: In some ways, it was a relief to get a break from the dialect, which, as it turns out, is the most controversial aspect of the books in the Mas Arai series. But I was able to retain some of it, as Mas talks frequently to his dead friend, Haruo.
---
Michael: The first book in the series, Summer of the Big Bachi, was more explicitly about being a survivor of the Hiroshima bombings, and now you've returned to that theme for the seventh book in the series. I read in an interview that you said after the second book in the series, you decided that each book would have a specific theme, instead of simply a continuation of the adventures of Mas. Can you talk about how you decided that it was time to end the series with the seventh book?
Naomi: I figured out that I need to have some kind of control of series, rather than having it unravel in a willy-nilly manner. The first three dealt with Mas's past as well as issues that touched his generation and the next three centered on more contemporary themes (drug addiction, technology and celebrity). I figured that with book seven, Mas had to return to Hiroshima, at least for a visit.
---
Michael: I have read in other interviews that one of your goals in writing is to give a greater voice to the Japanese American and Asian American communities, which are under represented in mainstream fiction and popular culture. Am I characterizing this correctly, and can you describe this in more detail?
Naomi: In my view, Asian American writing is at an all-time high. It's wonderful to see Viet Nguyen, Celeste Ng, Julie Otsuka and others doing so well. These type of stories are told so well in the realm of literary fiction, but I would love to see more representation in genre fiction like mystery, romance and science fiction. With Sarah Kuhn, Ed Lin, Henry Chang, Steph Cha, Winnie Li,  Kevin Kwan, Ted Chiang, Ken Liu, Charles Yu and others, we are seeing more, but I'm greedy. I want more, especially stories about working-class Asians and Asian Americans. (I'm not even going to mention children's literature, because there are too many writers to mention!)
---
Michael: Your protagonist is a survivor of the Hiroshima atomic bombing. You've been interviewed by national news organizations like National Public Radio about your parents and grandparents being Hiroshima atomic bomb survivors. How do you feel being thought of as a spokesperson for the survivors of the bombing, and what part do your novels and other work play in representing this community?
Naomi: I don't think any Asian American writer should feel that they are representing their ethnic community. For myself, I purposefully worked for a Japanese American newspaper. I continue to write nonfiction stories on Japanese Americans, specifically in the context of history. I feel that I have a specific role in preserving community memory. Authors have the freedom to write whatever they want. As I've met and spent time with a generation that is fast disappearing, I want to write stories that reflect that reality. People will recast this reality in different ways in the future, but I wanted to get my version at least on the books.
---
Michael: From the first Mas Arai novel, the concept of bachi has been an underlying theme in the series. As I understand, bachi is back luck returning to a person for something that the person did (or failed to do) in the past. Do you feel like bachi really exists? Do you feel like the belief is stronger in the older Japanese American or immigrant communities?
Naomi: I do believe in the general concept that people usually reap what they sow. But I'm also a big believer in grace and mercy. People want to believe in karma and justice because so much around us doesn't make sense sometimes.
---
Michael: I saw that you like to use social media like Facebook to ask for suggestions from readers for names of characters or what would be on a t-shirt for a particular time period. Is this just a practical way of using the resources available through social media, or have you found other benefits from doing this?
Naomi: I really have a love-hate relationship with social media. On one hand, I disdain it and think that it has polarized people and harmed real relationships. But on the other hand, I really appreciate its reach. I've really found great resources through the power of social media, not only in connecting with readers but getting leads on nonfiction sources. I think it's not that useful in just sharing links without any exposition. There needs to be some connective tissue. I try to respond to posts on other people's feeds, tag people when appropriate and respond to other people's successes. I love being able to keep tabs on people's lives — their milestones as well as their personal tragedies. In this way, social media can enhance real relationships.
---
Michael: I like the passage about 40 pages before the end of the book where Mas talks about what makes Los Angeles and the suburb Altadena his home, but that he has come to appreciate Japan as his home, too. I know you have spent time in Japan not just for research, but doing disaster relief after the 2011 Tohoku earthquake and tsunami. Was this passage somewhat autobiographical or written from your own perspective?
Naomi: That's my favorite excerpt in the book, too. I plan to read it at my book events. It's entirely autobiographical, but I did consider how Mas would feel. My father, like Mas, hadn't returned to Hiroshima in decades. I always thought that was a bit unusual to be in a sense estranged from your former home. Mas loves the wildness of California, yet there's something in the discipline of Japan that resonates with him, too. There's probably nothing so opposite as being American and being Japanese, yet it still can reside in a person like Mas and myself.
---
Michael: Your background before writing novels was in journalism. Can you talk about how your journalism background informs your writing? I know that there is some overlap between your work with the Japanese American newspaper in Little Tokyo and the subject matter that you write about in your fiction.
Naomi: A Japanese scholar had commented that my fiction writing seemed very journalistic and I didn't know whether to take it as an insult or not! But I think it's true in the sense that I'm intrigued with stories outside of myself. However, for a story to ring true, you need to mine your own feelings.
---
Michael: My impression is that the field of mystery writers is not well represented among people of color, especially Asian American women. Do you feel like there were more obstacles in your path because you are an Asian woman, and do those still exist at this stage in your career?
Naomi: I definitely felt like an outsider when I first entered the field in 2003. There were hardly any Asian American female mystery writers; there are some more today. The biggest obstacle is cultivating readers. When you write something off the beaten path, you have to convince people to give your work a chance. And that includes Asian American readers, too. I've had Japanese American older readers tell me that they only read nonfiction, not fiction. I don't stereotype my readers anymore. You never know what will bring people to your work. The beauty about writing series fiction is that you are literally building a cadre of readers, one book at a time.
---
Michael: This article is being written for an audience of Asian and Pacific Islander librarians. Could you talk about what role libraries have played for you, either for your formal education or professional work?
Naomi: My hometown library, Altadena Public Library, was literally my refuge. It's a beautiful structure of mid-century architecture surrounding by cypress trees. It was built around the time I was born. I would check out a pile of books that stood higher than me, especially during the summer. Thank God for those library summer reading programs! As I was raised by an immigrant mother, I learned about America as well as different worlds through books.
Today the library, through its digital databases as well as print books, serves as an important resource for my work. I even considered becoming a librarian one day, but since my nature is NOT to be orderly, I would have been a terrible librarian. I leave the good work to all of you!
---
You can follow Naomi on social media at:
---
Editing assistance provided by Jaena Rae Cabrera.