by Sherise Kimura and Janet Tom
Fifteen Northern California APALA members and friends celebrated the end of summer with a delicious vegetarian feast at  Enjoy Vegetarian restaurant (www.enjoyveggie.com) in San Francisco Chinatown. We welcomed Charlotte Roh, Scholarly Communications Librarian at the University of San Francisco, who recently moved to the Bay Area from Massachusetts. In addition to enjoying good food and conversation, we raised $100 for the APALA Scholarship Fund.
Janet Tom, San Francisco Public Library (SFPL), arranged a delicious twelve-course Chinese banquet which included Steamed Dumplings; Spring Rolls, Hot & Sour Soup; Singapore-Style Rice Vermicelli; Lettuce Wrapped w/ Shredded Mushroom; Fried Tofu w/Mushrooms and Broccoli; Pumpkin, Taro, & Tofu w/ Black Bean Sauce; Bean Curd Rolls w/ Vegetables; Lotus Root, Lily, Vegetables & Peas; Mixed Green Vegetables; Steamed Brown Rice and mini jian dui (fried sesame balls) for dessert.
There were a lot of animated conversations on the two tables we occupied which continued outside the restaurant for another half-hour, even after the staff locked up!
Don't miss the next event, tentatively planned for late fall or winter. Please contact Janet Tom (janet.tom@gmail.com) or Sherise Kimura (kimura@usfca.edu), if you're interested in helping to organize our next event.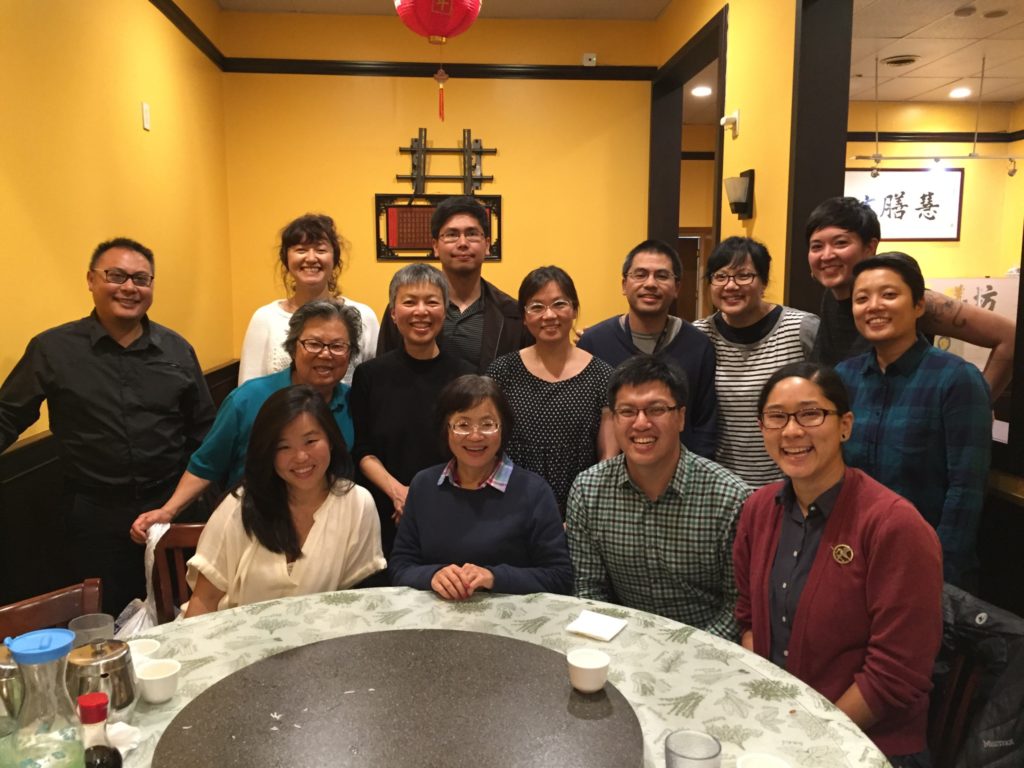 Here's who came:
(seated, L-R) Charlotte Roh (University of San Francisco), Suzanne Lo (City College of San Francisco), Chris Kyauk (Alameda County Library), Linda Nguyễn (Oakland Public Library). (standing, 2nd row) Vickie Lew, Janet Tom (SFPL), Sherise Kimura (University of San Francisco), Jerry Dear (City College of San Francisco, SFPL), Bonnie Cheng (SFPL),  Sine Hwang Jensen (UC Berkeley), Jean Kim. (standing, last row) Brian Huynh (SFPL), Kirstie Harless (SFPL), Jason Yap (Burlingame Public Library). Missing: Ana-Elba Pavon (Oakland Public Library).