My earliest memory of something being both Asian and Latino and cool was when Kogi BBQ hit the L.A. food scene with its Korean taco truck in 2008. For those unfamiliar with Kogi, their short rib taco is where it's at—"two crisply griddled homemade corn tortillas, double-caramelized Korean barbecue, salsa roja, cilantro-onion-lime relish and a Napa Romaine slaw tossed in a chili-soy vinaigrette." It's fantastic and pretty much genius. Growing up Japanese-Mexican in California, the seemingly natural interplay between Asian and Latin American flavors is something that my family and I have known for years.
A couple of years before Kogi blew up the L.A. food truck scene, I moved to Irvine as a bright-eyed, bushy-tailed freshman entering the University of California, Irvine as a biology major, mostly because that seemed like the thing to do. The reality was that I didn't have a clue what I wanted to do for the rest of my life. I switched majors four times, trying to find something I loved, something I felt passionate about. I finally found what I was looking for when I took a class on United States intervention in Latin America, which was basically a history course on all the stuff conveniently unmentioned in high school history courses. This was also the breakthrough moment of my life when I discovered how little I knew about the world around me. At this point, I decided that I needed to experience the world firsthand and learn about world history and culture for myself. In 2005, I packed my bags for a summer archaeology field program in the Atacama Desert in Northern Chile.
Back to food. One of the first meals I had when I arrived in the city of Iquique in Chile was at a chifa restaurant in the city's small Chinatown. Chifa, originally from Peru, refers to Chinese cooking that incorporates locally available ingredients. That summer, I had my fill of arroz chaufa (fried rice), tallarín saltado (chow mein), sopa wantan (wonton soup), and, quite possibly my favorite, aeropuerto (airport)—a glorious mix of chow mein and fried rice. Heaven. Aside from good food, my first chifa experience forced me to realize how naive I had been regarding the various Asian diasporas around the world. In school I had learned about Japanese and Chinese immigration to the United States, but it had never occurred to me that there were other immigration options aside from the US. Up to this point in my life, I didn't even realize that it might be normal to have both distinctly Asian and Latin American roots.
My trip to Chile also marked the end of my four-year undergraduate experience, and I still didn't have a clue about what I was going to do with the rest of my life. At this point, my dad advised that I pursue a graduate degree in something that I loved and that I would find my path along the way. Thus, I enrolled in a Masters program in Latin American Studies at San Diego State University, which allowed me to travel to other countries within Latin America, including Brazil, Argentina, Cuba, and Panama. This decision also enabled me to continue to explore established Asian communities in Latin America and experience how their food has adapted local ingredients and, in cases like Peru, become recognized as a an integral part of the national cuisine.
Food is a powerful and subtle way in which communities share their culture, history, and identity with others, essentially a catalyst for storytelling. Food connects us. Food helped me find communities and experiences similar to mine and sparked my curiosity into further exploring my own cultural identity in a global context. I feel incredibly blessed to live in Southern California and experience various forms of shared, borrowed, and blended food cultures, like Kogi's Korean street tacos, reflective of our immigrant culture. As an academic librarian, I constantly refer students to tangible resources within the library and electronic sources to facilitate their research. At the same time, I couldn't emphasize firsthand, real life experiences enough. Food is a good place to start.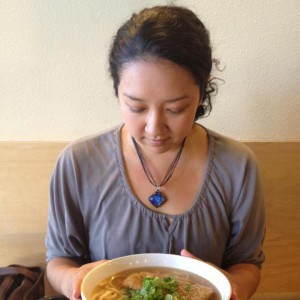 Cynthia Mari Orozco
Librarian-in-Residence
Loyola Marymount University
Los Angeles, California
---
Resources:
Nikkei food stories in English, Japanese, Spanish, and Portuguese
http://www.discovernikkei.org/en/journal/chronicles/itadakimasu/
Digital exhibition: "Gourmet Intersections: Asian-Latino Food Crossings," Smithsonian Asian Pacific American Center & Smithsonian Latino Center
http://gourmetintersections.com/
Nikkei identity, history, and experiences
http://www.discovernikkei.org/en/
Kogi BBQ
http://kogibbq.com/about-kogi/
MexiKosher Restaurant
http://www.kcet.org/socal/departures/south-robertson/mexikosher.html
Eating Identities: Reading Food in Asian American Literature – Wenying Xu
http://www.worldcat.org/oclc/487995725
The Fortune Cookie Chronicles: Adventures in the World of Chinese Food – Jennifer 8. Lee
http://www.worldcat.org/oclc/165082896
Chop Suey: A Cultural History of Chinese Food in the United States – Andrew Coe
http://www.worldcat.org/oclc/255902880
Bento Box in the Heartland: My Japanese Girlhood in Whitebread America – Linda Furiya
http://www.worldcat.org/oclc/71631982
Rice as Self: Japanese Identities Through Time – Emiko Oknuki-Tierney
http://www.worldcat.org/oclc/27145885
Maman's Homesick Pie: A Persian Heart in an American Kitchen – Donia Bijan
http://www.worldcat.org/oclc/712124010
Taco USA: How Mexican Food Conquered America – Gustavo Arellano
http://www.worldcat.org/oclc/741542706
Planet Taco: A Global History of Mexican Food
http://www.worldcat.org/oclc/781680667
Food and Culture: A Reader – Carole Counihan, Penny Van Esterik
http://www.worldcat.org/oclc/835280639