I am a Muslim. I am an American. My father is Indonesian and my birth mother is Okinawan. I grew up in the Monterey Bay area in northern California. Growing up, I was never perceived as Asian. At one time, I chose "Pacific Islander" as my ethnicity, since my peers kept telling me that real Asians looked a certain way. That way didn't look like me. Before I started wearing a headscarf, people assumed that I was Mexican. It was not an unfair assumption. The majority of the ethnic minorities in my primarily Caucasian town were Mexican or of Mexican descent. But it became rather tiresome to try to defend my inability to speak Spanish or know about my culture, when it really was just what others assumed as my culture. Not that I knew a ton about either of my inherited cultures in the first place. So, to add another layer to what I was supposed to know, a collective history of people over the last 1,400 years from different continents, cultures, languages, races – just because we shared a common religion – was just a little bit daunting.
A 2009 Gallup report found that the American Muslim community is the "most racially diverse religious group surveyed in the United States." African Americans constitute 35 percent of this demographic and more than a quarter classify themselves as racially white, (yes, Virginia, a lot of Arabs check the white box), 20 percent are Asian, 18 percent identify as other, and 1 percent identify as Hispanic. So many Muslims have talked about our large "imagined community"[1] and what it means here in the United States. In this country, as in others, the Muslim community is a blend of Islamic ideas and identities. What it means to be Muslim is a conscious existential choice rather than a cultural given. It is a microcosm of the larger world and an amalgamation of identities, practices and norms that vie for a place of being authentic, Islamically and morally correct.
Since Islam is more of a blending of my cultural norm and ethnic identity, nationality took precedence in my identity, and I identified as just an American. I went to school, hung out with friends, did my homework and was involved in multiple extracurricular activities. It didn't even occur to me that I was different from my friends, except that I knew I was Muslim, Indonesian and Japanese. I did have a teacher ask one time if English was my second language and a parent ask if anyone had ever discriminated against me because I wasn't white. That was when the concept of identity really entered my consciousness. I asked my friends what they thought of me. They just said they saw me as me, and that meant more to me than anything else. It still does. The concept of a colorblind society was an idea that disturbed me, though, and I began to realize the privilege my peers had and what my own privilege had been.
Then 9/11 happened. I can honestly say that before then, I never thought I would wear a scarf. I was deeply interested in my faith, but it was much more in the context of history and spirituality rather than in actual practice. Until I went to college and met other Muslims, I only knew some of the social and religious normatives in the "mainstream" Muslim community. As I grew in my faith, I adopted more of these social mores, and my identity became more complex. When I put on my scarf, I automatically became an Arab. People assumed that I knew Arabic, that I didn't know English, and that some man in my family was oppressing me, forcing me to veil myself.
Even my own family's perception of me changed. One of my uncles was worried that I was never going to have fun again. My identity became faith first, then ethnicity and nationality. Yet, I was a minority within a minority, as most of the students in my Muslim Students' Association were Pakistani and Arab. Strangely, though I was already supposed know everything about my collective Islamic history, my parents resented my adopting more Arab dress. I thought it was fine if I was wearing clothing from everywhere and everyone, but Indonesia wasn't very well represented in Islamic fashion, at least in the States. And though this has changed in recent years, I found that unless they had been to the archipelago, other Muslims did not know much about Indonesia, other than that it is the most populous Muslim country in the world. It is a strange thing to think, in a community that is so large and diverse, it is almost an accepted norm to know each other by stereotypes.
I was lucky enough to have the opportunity to study abroad in Turkey in 2003. Like most study-abroad experiences, it was enlightening in so many ways, both frustrating and rewarding. What I found amusing, though, was the perception of Muslim Americans by the Turkish students I met. I had a conversation with a slightly inebriated young man who had watched "Malcolm X" and thought all Muslims in America were black. I thought it was funny when one of the Turkish girls on my floor said that they loved the slight chink in my eyes and declared me to be Asian, not questionably Asian. I was also able to travel a bit, visit other countries in the region. My overall takeaway from that experience was realizing just how American I am, despite, or perhaps because of, my multi-layered identity. Upon returning to the U.S., I felt like my identity had fractured even more.
When I was young, my cousin's cousin came over from Indonesia to visit one summer. Upon meeting me, then a teenager, he declared me to be hancur. Hancur is an Indonesia word and has an array of meanings. In this particular context, it was used to describe something broken. It was not a nice thing to say. People with multiple backgrounds can have a view that might even be described as multi-faceted — layering mixed cultures, American identity, religion outside of the status quo and the perception of others. Such a viewpoint can lead to confusion, despair and the idea that one is never enough. I felt this way particularly during graduate school, despite my attending a program that had a cohort that was substantially diverse and in a very multicultural city. Graduate school can be an isolating experience for everyone, but I felt almost unwelcome, though I received my MLIS at my undergraduate alma mater. Little incidents, like hearing someone say there was too much of a focus on diversity in our program, having books knocked out of my hands as someone brushed past me, or facing glares in class from those that perceived me to be strongly prejudiced against the LGBT community, were flooring. The latter particularly disturbed me, as a relative had just come out to our family and I was helping my friend, a trans-man, acclimate to the area and to his physically expressed, postoperative identity.
Added to that was my attendance at a professional librarian panel program, in which a known critic of Islam was invited to speak. This panel was intended for an audience of ethnic and multicultural librarians as a representation of my community. By extension, it was meant to represent me. I felt even more unwelcome in the library field.
Graduate school allows a student to develop skills and explore professional opportunities, but I found myself paralyzed into inaction. I entered the library field because of my interest and belief in the power of libraries. I wanted to provide information and dispel misinformation, not only in general, but specifically false impressions about any of my communities. I thought that it would be empowering for the public to see a person who looks like me working at the local level and to see that I was a normal person. I do regret not being more active, or more willing to advocate for myself during my graduate school years, but I was unwilling to share so much of myself with people whom I thought would not accept me even if I tried. It was much later though, with the help and support of a few good friends, and the recommendation of a professor to join APALA, that I was able to find my feet and my voice again.
There are problems that I face everyday, or at least on a regular basis. I have had patrons leave me proselytizing material, had a child ask if I was going to blow up the building, and have even received an anonymous death threat while on the job. I have been called "that Korean lady," "that White lady" and, my favorite, "the lady with the rag on her head." Like all of us in the public eye, I have had my share of negative experiences and I am sure there will be more over the course of my career. Working as a children's librarian has also given me some of the most rewarding experiences of my life.
Finding support from other professionals in the field who have had similar experiences helped me to move beyond those negative experiences. Now more than ever, I am determined to stay true to my initial career goals, develop professionally and share my experiences with others. I hope that people will see me for who I am beyond my appearances and beyond stereotyping in the field and out of it.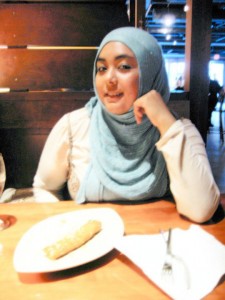 Ariana Sani Hussain
Children's Librarian at District of Columbia Public Library
Washington, D.C.
Editing assistance provided by Melissa Cardenas-Dow and Jeremiah Paschke-Wood.
---
[1] See Anderson, B. (1983). Imagined communities: Reflections on the origin and spread of nationalism.
---
 Resources
Imagined Communities: Reflections on the Origin and Spread of Nationalism by Benedict Anderson
The New Imagined Community by Uriya Shavit
Muslim Americans: Studies
Pew Research Center:
Muslim Americans: Middle Class and Mostly Mainstream
http://www.pewresearch.org/2007/05/22/muslim-americans-middle-class-and-mostly-mainstream/
How Muslims Compare With Other Religious Americans: http://www.pewresearch.org/2007/07/06/how-muslims-compare-with-other-religious-americans/
Muslim American Identity: Scholarly
Encyclopedia of Muslim-American History by Edward E. Curtis IV
Muslim American Youth: Understanding Hyphenated Identities through Multiple Methods by Selcuk R. Sirin and Michelle Fine
Muslim American Identity: Books & Literature
Living Islam Out Loud: American Muslim Women Speak edited Saleemah Abdul-Ghafur
I Speak for Myself: American Women on Being Muslim edited Maria M Ebrahimji & Zahra T Suratwala
Muslim Women in America: The Challenge of Islamic Identity Today by Yvonne Yazbeck Haddad, Jane I. Smith and Kathleen M. Moore
Love in a Headscarf by Shelina Janmohamed
Does My Head Look Big In This? by Randa Abdel-fattah (YA)
The Butterfly Mosque: A Young American Woman's Journey to Love and Islam by G. Willow Wilson

Katie Seitz is a new APALA member. She is currently getting her MSLS at Simmons College GSLIS with a concentration in archives and expects to graduate in August 2015. Through the Simmons chapter of the Progressive Librarian Guild, Katie curates a lecture series for the Simmons Anti-Racism Working Group. This project features various LIS professionals invited to Simmons College to speak about race and racism in the field. Additionally, she is an intern at the Massachusetts State House Special Collections department, Roxbury Community College Archives and has an upcoming archives assistantship with Tufts University's Digital Collections and Archives.
Katie is working hard towards her goal of being a public librarian and archivist:
I enjoy the service and community aspects of library work and the chance to publicize history that comes with archives work. I have welcomed the opportunity to grow in different ways at my various internships, whether that's learning how to put together a MARC record or writing a blog post about a Civil War-era collection of papers. Some days I still can't believe that I will soon get to do this work professionally.
She identifies as a multiracial Korean American. She writes,
My mother is Korean and my father is white of Ashkenazi Jewish heritage. Though I was raised in a predominantly white town, my mother sent me and my sister to Korean school every Saturday and we got to spend time with Korean American family and friends. I am so grateful for her hard work in helping us maintain a connection to Korean language and culture.
Having joined APALA just a few months ago, Katie looks forward to becoming more active with APALA in the future:
I was so glad to connect with other A/PI people in the LIS world. This profession is not diverse, and we must advocate for our own concerns because no one else is going to do it for us…. I have only been a member for a few months, but I have been so impressed already by the way that APALA works to promote A/PI visibility, supports and celebrates its members, and is responsive to member voices. I have a deep commitment to promoting social justice and I am excited to be part of a group that has an active, conscious membership and engagement with social issues. Of course, I'm also looking forward to meeting people at conferences and in the Boston area!
Welcome to APALA, Katie!
Edited by Alyssa Jocson and Raymond Wang

Posted by
Melissa
on Apr 2, 2014 in
Featured
|
0 comments
Recollecting APALA's Past: An Interview with Gary Colmenar, APALA 35th Anniversary Conference Steering Committee Co-Chair
by Melissa I. Cardenas-Dow and Alyssa Jocson
In late March 2014, APALA Web Content Sub-committee members Melissa Cardenas-Dow and Alyssa Jocson conducted a long-distance, asynchronous e-mail-based discussion with Gary Colmenar, prominent APALA member, current ALA Council candidate, and SRRT Action Council member (Social Responsibilities Round Table). We focused on APALA's upcoming 35th Anniversary Conference, of which Gary is one of the three program chairs. The APALA 35th Anniversary Conference will be a conglomeration of events intended to showcase the bridge that is the past, present, and future of APALA, both as an organizational entity and as a social group of diverse librarians intent on supporting each other and the Asian/Pacific Islander (API) communities in North America. The following article is the first of a three-part mini-series marking APALA's 35th Anniversary. It also offers an edited version of our conversation. 
Melissa Cardenas-Dow (MICD): Thanks, Gary, for agreeing to do this interview with us. Please briefly tell us about yourself and your position(s) in APALA, especially your role in planning APALA's 35th Anniversary celebration.
Gary Colmenar (GC): Thank you for giving me the opportunity to talk about APALA's 35th Anniversary. The Anniversary Steering Committee has met several times now, since the call for volunteers was sent last fall. We received a high number of responses from the initial call. Since then, we have met via phone conferences and collaborated over email and the APALA wiki. We also had a meeting at Midwinter in Philadelphia [ALA Midwinter 2014]. Currently, the committees are engaged in the initial stages of planning.
I am one of the co-chairs for the APALA 35th Anniversary Steering Committee. The other co-chairs are Jade Alburo and Florante Peter Ibañez. I am also involved in the Program Planning Sub-committee. I was APALA President in 2002-2003 and Executive Director from 2006-2012. Currently, I am the Editor of the APALA Newsletter. I am a Humanities and Social Sciences Librarian at the University of California, Santa Barbara.
MICD: What do you think is the most important function(s) of APALA?
GC: I'd like to answer this question by going back to the history of APALA and looking at the original goals set by the founders. This history is well-chronicled by Ken Yamashita in his article entitled, "Asian/Pacific American Librarians Association: A History of APALA and Its Founders." Ken mentioned several critical issues affecting librarians of Asian Pacific American heritage, which the founders wanted to address through a formal body. They wanted to address the lack of visibility and recognition of librarians of Asian and Pacific Islander (API) descent in ALA, to provide a forum through which API librarians could voice and share their successes and concerns related to their work and profession.  The founders wanted to establish an organization that will open lines of communication with ALA, its units, and the public in general.  Furthermore, they wanted to create an organization that welcomed all Asian ethnicities, a place to discuss issues shared by Asian Pacific Americans. In 1975, the Asian American Librarians Caucus (AALC) was formed.  Five years later, APALA was created.
MICD: How do you think these goals and functions evolved over the years? Do you think they did (or didn't) change?
GC: Yes, I most definitely think these have changed! It seems that evolution or change is a natural trait of a dynamic and working organization. The functions have evolved also with increase in membership, changes in the composition of the Executive Board, and with more resources. As a result, the organization has expanded in what it does. For example, APALA has been engaged in giving scholarships and other types of awards. APALA has become more involved in philanthropic work, making donations to API organizations, communities and libraries. APALA has made donations to the Asian American Federation WTC in the aftermath of the attack on the World Trade Center in 2001. APALA has made donations to groups in other countries. APALA also has made great strides in developing professional relationships with other library organizations, especially the various ethnic library affiliates and ALA units. Most recently, the Executive Board, with input from membership, voted to endorse the joint statement of ALA and BCALA regarding Florida as the site of the 2016 ALA Annual Conference.
I would also emphasize that while the functions have expanded and changed, the original principles established by APALA's founders still remain at the core of APALA's activities.  This is evinced from the activities and initiatives APALA officers have engaged in over the years, such as the creation of an Executive Director position to improve workflow within the Board, the development of a strategic plan to capture APALA's vision, mission and goals. These changes allow APALA's Executive Board and committees to continue to grow and develop the organization, to focus on achieving our original goals through programs and new projects.
MICD: What role(s) has APALA played within the larger organization of ALA during its 35 years of existence? How has this changed over the years?
GC: As an ALA member for over a decade, I have seen the number of APALA members elected or appointed in various ALA units and committees increase during the last ten years.  Our members have been elected to the ALA Executive Committee, ALA Council, ALA Divisions, Round Tables, and Task Forces. These are important committees where policies, programs, and standards of practices related to library services, information access, and many other issues important to the library profession are discussed, developed, and decided. Moreover, APALA members on these committees engage with members from other ethnic affiliates and Round Tables to address common concerns.
As an ALA affiliate, APALA has received tremendous assistance from the ALA Office for Diversity (ALA OFD) and the ALA Office for Literacy and Outreach Services (ALA OLOS).
"History is not the past. It is the stories we tell about the past. How we tell these stories–triumphantly or self-critically, metaphysically or dialectally–has a lot to do with whether we cut short or advance our evolution as human beings." — Grace Lee Boggs, "The Next American Revolution: Sustainable Activism For the Twenty-First Century," 2011, p. 79.
MICD: In considering the past 35 years of APALA's work, what would you consider its highlights?
GC: Since I joined APALA in 1998, a lot of memorable and important events have happened. The first National Conference on Asian Pacific American Librarians in 2001 was a major event for both APALA and CALA. Ken Yamashita from APALA and Ling Hwey Jeng from CALA were conference co-chairs. With their leadership and hard work, the conference was a major success. Literary awards were presented at the conference, which APALA now presents each year. The APALA 30th Anniversary celebration held in Washington, D.C. was a memorable event, which included tours of the White House and Library of Congress.
MICD: What about in terms of specifically promoting and advocating for API information professionals and patrons?
GC: I think many of APALA's activities promote and advocate for our colleagues. The APALA scholarship and travel awards first come to mind. We have supported the ALA Emerging Leaders program since its inception. The mentoring program provides a formal structure that connects new librarians with more seasoned members.  Outside of the formal structure, I would like to think that mentoring happens everyday in APALA, within committees and in the Executive Board. It happens informally and serendipitously at social gatherings. APALA has sponsored several programs on leadership and management.
But, I also think that we could do more, especially in the area of advocacy for colleagues related to finding employment and other work-related issues. We also need to be vigilant and conscious regarding representations of API people in literature and advocate against stereotypes. The presentations from our guest speakers at the APALA social dinner in Philadelphia addressed this issue very well.
MICD: With regards to building bridges with other ALA groups, especially those that focus on cultural and ethnic diversity, could you describe for us the collaborative projects APALA has engaged with?
GC: There are many.
The collaboration with CALA, which was the first national conference on Asian Pacific American Librarianship.
The Joint Conference of Librarians of Color (JCLC) held in 2006 and 2012 were huge undertakings and I am pleased to say that many APALA members volunteered to collaborate with AILA, BCALA, CALA and REFORMA to make these events successful, informative and entertaining.
The Talk Story joint project with the American Indian Library Association (AILA) is one of the projects our organization is engaged with currently. It is also a funded project.
On a smaller scale, APALA has co-sponsored programs at ALA Conferences numerous times, with other ethnic affiliates and ALA units such as the Lesbian, Gay, Bisexual, and Transgender Round Table (LGBTRT) and the Social Responsibilities Round Table (SRRT).
It is important to mention that APALA, through the initiatives of some of its members, has been engaged in social justice issues in recent years. I am happy to see this trend, especially given the intentions of APALA's founders.
Our organization has also been successful in collaborating with Asian Pacific American organizations, cultural institutions and communities through the tours we hold at ALA Conferences.  The tours of the Newberry Library (Chicago), Versailles Vietnamese community (New Orleans), Chinatowns (Boston Chicago, and Philadelphia), Tri-state Denver Buddhist, Little Saigon (Orange County, CA), South Asian American Digital Archives and Asian Arts Initiative (Philadelphia), and the International District and Wing Luke Museum (Seattle) were all successful events.
MICD: What do you think were the biggest challenges APALA tackled during its 35 years of existence?
GC: In my opinion, some of the biggest challenges APALA has tackled since its establishment were related to membership participation, financial stability, and leadership transitions. Given the smaller size of APALA's membership, calling on volunteers for elected positions and committee work was especially difficult. I am pleasantly amazed that APALA has accomplished a lot with few resources every year. This demonstrates the quality and dedication of APALA's membership, which I hope will continue into the future.
Losing the historical memory of our organization is another major challenge for us as an organization. This is an important source of the organization's collective identity and inspiration.
One of APALA's unique traits, and its strength, as many have already pointed out, is the diversity of its members. This engenders a climate, a sensibility and an awareness of differences in people's perspectives and experiences. At the same time, these differences–in race and ethnicity (I include mixed races here), gender and class, just to name the most visible forms of differences–that APALA members embody presents a significant challenge for the organization.
MICD: How will the APALA 35th Anniversary Conference highlight APALA's history to new members and non-members?
GC: The Steering Committee and the Sub-committees have been brainstorming ideas for a while now. Here are a few that I can mention at this time:
We plan to involve several individuals to take part in the events to talk about APALA's history.
There is a plan to include a plenary speaker to address the theme of the symposium, which is on building bridges, the past, present and future.
The Steering Committee will consider other ideas as we plan for this event scheduled in June 2015.  More importantly, we will seek participation from APALA members as we plan for the symposium.
I greatly appreciate the fantastic work of the members of the Web Content Sub-committee [a sub-committee of the APALA Newsletter & Publications Committee], who have been engaged in conducting interviews with and doing historical research on the founders and original members of APALA. These articles will be posted on the APALA website.
MICD: Thanks, Gary, for the shout-out! What message do you hope attendees will get out of the APALA 35th Anniversary Conference?
GC: The overarching theme of the symposium/anniversary is building bridges and making connections. We intend to capture the spirit of this theme through programs and workshops that identify the connections between librarianship and community, as well as the links between APALA's past, present, and future.  I hope that the symposium would provide a space for attendees to articulate and develop these linkages in as broad a manner that will be useful to them.
MICD: Any last words for our readers? What message would you like to leave them with, regarding APALA's past and history?
GC: I hope to have shared some of APALA's rich past related to service, advocacy, and support for API librarians, API communities and the library profession, beginning with the initial intentions of its founders. But, like any organization, APALA has encountered its shares of struggles and internal strife as well.  All these combined throw into sharp relief the commitment and passion of its members, especially its officers and committee members who volunteer their time and effort in the service of APALA's mission and goals.
I have shared with the readers my perspective and thoughts on APALA. I am certain that each member has a story to share and all of these individual stories, good and bad, combine to present a more-complete version of APALA.  I am also hopeful that more stories will be told because APALA has a mission to uphold.
I end by sharing a quote from a lifelong activist, scholar, and Asian American feminist Grace Lee Boggs. She is the subject of a film documentary entitled, "American Revolutionary: the Evolution of Grace Lee Boggs":
"History is not the past. It is the stories we tell about the past. How we tell these stories–triumphantly or self-critically, metaphysically or dialectally–has a lot to do with whether we cut short or advance our evolution as human beings."
Questions created and interview conducted by Melissa I. Cardenas-Dow. Editing and writing support provided by Alyssa Jocson.

Posted by
Melissa
on Mar 10, 2014 in
Featured
|
0 comments
by Jeremiah Paschke-Wood
APALA lost two of its primary founders in 2013 with the passing of Drs. Suzine Har Nicolescu and Sharad Karkhanis. In addition to helping create the organization, the two were well-respected librarians, administrators, authors and champions of free speech, social justice and the fight against racial discrimination.
Suzine Har Nicolescu
Suzine Har Nicolescu was born March 21, 1931 in Seoul, Korea. A lover of language and the arts, she received a Bachelor's in English Language/Literature and Fine Arts at Ewha Womans University in Seoul before moving to the United States. There she received her Master's in Modern Languages/Literature and Comparative Linguistics from the University of Denver, where she also obtained her Master's in Library Science. She would eventually add a Ph.D. in Library Information Systems from Simmons College.
After beginning her career in the library field as a foreign languages cataloger/bibliographer at the University of Denver, Nicolescu made stops at Illinois State University, Stony Brook University and The City College of New York before assuming the role of instructor/chief of instructional services at CUNY Medgar Evers College, where she would also serve as registrar, director of information systems, chief librarian and director of library services before retiring in 1999. At the time of her retirement, Dr. Nicolescu was one of only 30 Asian American directors in the United States. Nicolescu was also active in ALA, ACRL, LLAMA, American Library Trustees Association, International Relations Round Table and various other round tables and regional and state associations. She was president of APALA in 1985-1986.
Dr. Nicolescu was a proponent of dealing with discrimination with patience, objectivity and effort (Yamashita, 2000, pg. 99). She wrote articles and made presentations internationally on the topic of multicultural librarianship, including an article on the formation and goals of APALA for the journal Ethnic Forum and co-authored "Needs Assessment Study of Library Information Service for Asian American Community Members in the United States" with Henry Chang.
In his history of APALA and its founders, Dr. Kenneth Yamashita said,
"Her Asian ancestry espoused the advantages of hard work and perseverance, influencing her artistic ability, and sustained the ethical and moral values in her relationship with others." (2000, pg. 99)
Dr. Suzine Har Nicolescu passed away Feb. 22, 2013 at the age of 81 in Chevy Chase, Maryland.
Sharad Karkhanis
Sharad Karkhanis was born March 8, 1935 in Khopoli, India. Karkhanis earned a diploma in library science from the Bombay Library Association before even receiving his bachelor's – which he would earn in economics from the University of Bombay (now University of Mumbai). After his first job at USIS Library (now American Library, Mumbai), Karkhanis moved to the United States in 1960 and enrolled at Rutgers University, where he received his MLS. He also earned a Master's in International Relations/American Government from CUNY Brooklyn (now Brooklyn College) and a Ph.D. in American Government from New York University. Dr. Karkhanis served as Professor of Political Science and Libraries at Kingsborough Community College of the City University of New York from 1974-2005.
In 2008, Dr. Karkhanis was named Educator of the Year by the Democracy Project, who cited his "lifetime history of standing up against repression and censorship," in giving him the award (Orenstein, 2008). An avid author, Karkhanis wrote a number of books and articles, including "Indian Politics and the Role of the Press" and "Jewish Heritage in America: A Bibliography." In addition, he was the founder and editor of "The Patriot Returns," a newsletter taking on CUNY administration and faculty. As editor, he fought a long legal battle against censorship regarding his criticism of university establishment and faculty.
Serving as the first APALA president, Karkhanis sought to develop APALA as a long-standing and functional organization through membership drives and published conference proceedings (Cardenas-Dow, 2013). He was also heavily involved with ALA's Council Resolutions Committees, Bogle Pratt International Travel Fund, and was involved in various regional and university organizations.
Karkhanis was an advocate for young librarians, saying that they could become the agents of change the profession needs.
"He would encourage young Asian Americans to pursue a career in librarianship by promoting the opportunities for fresh ideas, assertive leadership, and intellectual growth that would change the status quo. He believes that new librarians can be the change agents the profession needs." (Yamashita, 2000, p. 101)
Dr. Sharad Karkhanis spent his later years between Brooklyn and Boca Raton, Fla., where he died March 28, 2013, at age 78.
References
Cardenas-Dow, M. (2013). APALA Remembers Dr. Sharad D. Karkhanis. Unpublished article. Retrieved Dec. 6, 2013.
Orenstein, P. (2008, Jan. 1). Dr. Sharad Karkhanis Educator of the Year. Queens Village Eagle. Retrieved Dec. 6, 2013, from: http://democracy-project.com/2008/01/dr-sharad-karkhanis-educator-of-the-year/
Yamashita, K. (2000). Asian/Pacific American Librarians Association—A history of APALA and its founders. Library Trends, 49(1), 88-109. Last retrieved April 7, 2013, from: http://www.apalaweb.org/wpsandbox/wp-content/uploads/2010/07/apalahistory.pdf
Editing assistance provided by Alyssa Jocson.

Posted by
Melissa
on Feb 24, 2014 in
Featured
|
0 comments
DPLA: A Vast Ocean of Information
by Jaena Rae Cabrera
I first learned about the Digital Public Library of America while studying for my MLIS at Syracuse University. When I heard about their call out for Community Reps, I figured it would be a good way for me to learn more about the DPLA, as well as an opportunity to meet others with similar interests in open access, digitization, etc. For DPLA, the community reps program helps them connect with local communities. Community reps assist with community outreach, not content recruitment, aggregation, or digitization.
From their FAQ page: DPLA "brings together the riches of America's libraries, archives, and museums, and makes them freely available to the world. It strives to contain the full breadth of human expression, from the written word, to works of art and culture, to records of America's heritage, to the efforts and data of science. The DPLA aims to expand this crucial realm of openly available materials, and make those riches more easily discovered and more widely usable and used."
As a community rep, I also see an opportunity to explore DPLA's definition of "America's heritage" and how much (or how little) it includes the APA community, perhaps with the help of the APALA community.
This first post is meant as an introduction or overview of the DPLA.
The DPLA homepage highlights its function as a portal of discovery. Through the DPLA, students, teachers and the public have access to over 5.6 million items—photographs, manuscripts, books, sounds, moving images, and more—from libraries, archives, and museums around the United States.
Users may browse and search the DPLA's collections by timeline, map, visual bookshelf, format, and topic; save items to customized lists; and share their lists with others. Users can also explore digital exhibitions curated by the DPLA's content partners and staff.
Where does DPLA content come from?
One important distinction to note is that the DPLA aggregates metadata records—the information that describes an item, such as its creator, date, place, provenance and so forth—not the content itself. Each record in the DPLA links to the original object on the actual content provider's website.
Content providers are either service or content hubs.
Content Hubs
The content hubs are large digital libraries, museums, archives, or repositories that maintain a one-­to-­one relationship with the DPLA. Content hubs provide more than 250,000 unique metadata records that resolve to digital objects (online texts, photographs, manuscript material, art work, etc.) to the DPLA, and commit to maintaining and editing those records as needed.
As of December 2013, the content hubs include the following institutions:
ARTstor
Biodiversity Heritage Library
David Rumsey Map Collection
Harvard Library
HathiTrust Digital Library
National Archives and Records Administration (NARA)
New York Public Library
Smithsonian Institution
University of Illinois at Urbana—Champaign
University of Southern California libraries
University of Virginia
Service Hubs
Conversely, service hubs are state or regional digital libraries that aggregate information about digital objects from libraries, archives, museums, and other cultural heritage institutions within its given state or region. Each service hub offers its state or regional partners a full menu of standardized digital services, including digitization, metadata assistance and training, data aggregation and storage services, as well as locally hosted community outreach programs, bringing users in contact with digital content of local relevance.
As of December 2013, DPLA's service hubs include the following institutions:
Digital Commonwealth (Massachusetts)
Digital Library of Georgia
Empire State Digital Network (New York)
Kentucky Digital Library
Minnesota Digital Library
Mountain West Digital Library (Utah, Nevada, Southern Idaho, Arizona)
North Carolina Digital Heritage Center
Portal to Texas History
South Carolina Digital Library
Here's an analogy to help visualize the service hub relationship: Imagine your local historical society or public library as a pond, containing unique cultural content. Ponds send their content through tributaries to lakes, the service hubs, which aggregate data from the various cultural heritage institutions across their state or region, the ponds. The service hubs then feed this content through rivers to the ocean, the DPLA.
Pond             –>                           Lakes                              –> Ocean
Local public library –> Service hubs like Digital Commonwealth –> DPLA
The DPLA API
A unique characteristic of DPLA is it also acts as a platform that enables users to creative new and transformative uses of digitized cultural material. With an application programming interface (API) and maximally open data, the DPLA can be used by software developers, researchers, and others to create novel environments for learning, tools for discovery, and apps.
Through the DPLA's powerful, open API, developers can build tools, programs, widgets, and plug­-ins.
(An API is a set of routines, protocols, and digital tools for building software applications. A good API makes it easier for a developer to create an application that makes use of a particular set or sets of data by providing all the building blocks needed to integrate into his or her design. For example, Twitter releases its API to the public so that other software developers can design products that are powered by its service.)
The DPLA App Library contains applications built by independent developers interested in seeing what open cultural heritage data can look like in different contexts.
OpenPics, for example, is an open source iOS application for viewing images from multiple remote sources, including the DPLA API.
Culture Collage is another simple tool that lets you search the DPLA's image archives and view the results in a stream of images. Just keep scrolling to fetch more. You can click on an image to save it to a scrapbook without losing your position in the stream.
So far, being a DPLA community rep has been pretty low maintenance, but it is still in the early stages of the program. This post is really my first foray into community outreach for DPLA, although I am looking in to doing presentations or webinars for local library branches. I think it would also be fun to view and use the DPLA through a variety of lenses and information uses. It has so many different access points that the results could be pretty fascinating. On Twitter, I also plan to start posting interesting APA finds with the hashtag #DPLAfinds.
In future posts, I will explore DPLA's access to APA collections via its different search options. If you have used DPLA for research before, please feel free to share your experiences with me at jaenarae@gmail.com, or tweet me @jaenarae with the hashtag #DPLAfinds. Please feel free to contact me with any more specific queries about DPLA, or if you might be interested in a webinar or presentation. 
Editing assistance provided by Alyssa Jocson.