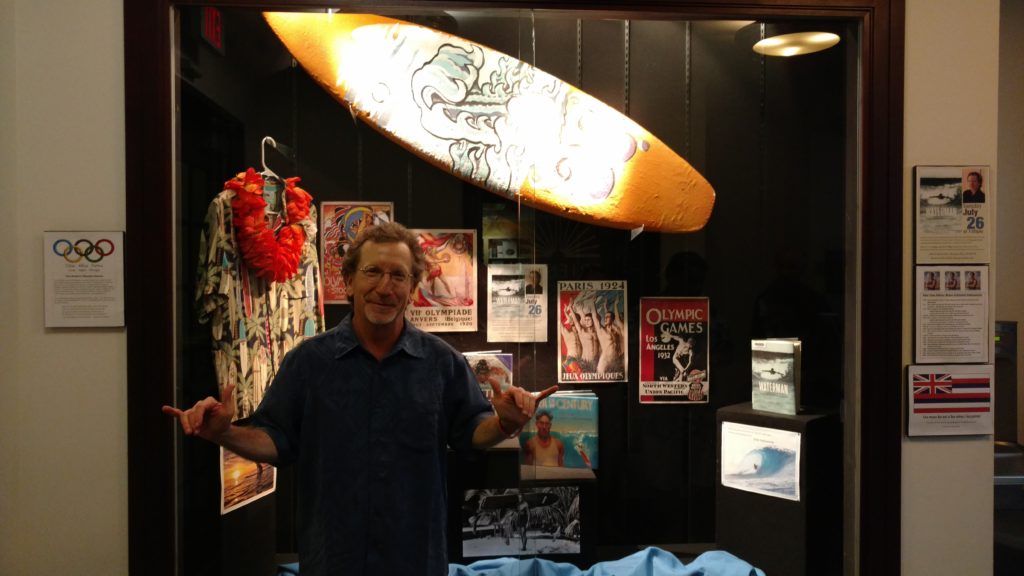 On a balmy July evening, award-winning author and journalist David Davis (Play by Play, Marathon Crasher, Sports Illustrated, Los Angeles Times) came to the Beverly Hills Public Library to give a talk and answer questions about his latest book, "Waterman – The Life and Times of Duke Kahanamoku. "
While researching and writing his previous book, "Showdown at Shephard's Bush" about the 1908 London Olympics, Davis became intrigued with Hawaiian surfing and swimming legend, Duke Kahanamoku. Duke and Jim Thorpe were the outstanding American athletes of the 1912 Stockholm Olympics and both were non-white, Native Americans.  Davis found much had been written about Thorpe, but there were fewer comprehensive works about Duke.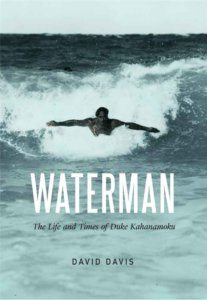 Davis acknowledged the difficulty of telling the full story of Duke Kahanamoku, not only because legendary tales and gossip about Duke made the truth harder to discern, but also because of the pain and controversy over Duke's successes, failures, and even his legacy. Also, Duke's life was intricately tied to the turbulent history of Hawai'i. Davis admits that there were some people who did not even want to talk with him at all.
It might have been easier to "print the legend" as famously quoted from the film "The Man Who Shot Liberty Valance," but instead, Davis spent many months crisscrossing the country — from Hawai'i, up and down the coast of California, to New York and many points in between — and all the way to Australia in order to research Duke's life, travels, and influence. Davis visited many public libraries and institutions and he has a wallet full of library cards from the many places he's traveled. The book is filled with copious notes and a bibliography that reflects Davis' extensive research, noting when he was able to confirm stories and rumors about Duke's life, and admitting when he could not.
Duke Kahanamoku's life (1890–1968) matched the sprawling, complex history of Hawai'i from its status as an independent monarchy that was overthrown to become an American territory and then its 50th state. Duke is remembered today primarily as the Father of Surfing, popularizing the ancient Hawaiian sport around the world like a Polynesian Johnny Appleseed. However, it is because of his early fame and renown as a swimming phenomenon, Olympic medalist, and world record holder that he was able to have an impact on other sports at all.
Davis noted that it is ironic that Duke might never have become an Olympic champion had not the US annexed Hawai'i as a territory and thus made Duke an American citizen, eligible to compete. And to add further irony to Duke's legacy, he might not have competed at all at the 1912 Stockholm Olympics had not the Amateur Athletic Union (AAU) officials in Chicago refused to accept his record-smashing times clocked at a swimming event held in Honolulu Harbor in August 1911. There, Duke swam the 50- and 100 yard events 1.6 and 4.6 seconds faster than the American records of the day. The AAU's snub of Duke's times, tinged with a whiff of racism, spurred many Hawaiian groups – natives, whites, sports fans, business boosters, etc – to collaborate to raise the money necessary to send Duke to the mainland to try qualify for the US Olympic swim team. He did, setting world records and winning a gold medal in Stockholm, defending his title at the 1920 at the Antwerp Olympics, and at countless swimming events and exhibitions in between, proving his prowess in the water was no fluke. He even took silver at the 1924 Paris Olympics at age 34.
In his quiet way, Duke was an early warrior against racism. He certainly encountered prejudice in his travels, but as an Olympic superstar, lauded as "The Human Fish," he was able to go places that were forbidden to people with such dark skin as his. Restaurants, segregated beaches, private clubs — he frequented them all and his dignified demeanor and presence garnered respect and admiration.  And yet, in other ways, America still was not ready for a non-white hero. His various stints in Hollywood from the 1920s through the '50s were a cavalcade of exotic bit parts: Polynesians, Native Americans, and Middle Eastern sheiks. Still, as Davis pointed out, it cannot escape notice that while Duke was assigned these small roles, two other champion swimmers, both white, were immediately given leading roles in Hollywood movies — Johnny Weissmuller (Tarzan) and Buster Crabbe (Buck Rogers).
Davis' book is comprehensive, covering well-known aspects of Duke's life, including his Olympic triumphs, his heroic rescue of 8 fishermen from the capsized boat "Thelma" in 1925, and his promotion of Hawai'i, swimming, and surfing culture around the world. It also reveals some lesser known facts, such as Duke's long relationship and friendships with members of the Los Angeles Athletic Club, the many years of economic hardship he suffered while trying to retain his amateur status for the Olympics, and towards the end of his life the marketing, branding, and (some would say) exploitation of Duke's name and likeness for which many profited, but not all equally – not even Duke.
Davis treads biography's fine line of honoring a hero and legend, while exposing some uncomfortable truths along the way. He presents the life of Duke Kahanamoku as one of great triumph, spectacular achievement, and powerful legacy. Yet it is a life we can see with the melancholy of hindsight, of the "what ifs" of Duke's life had he lived in a more modern era with more opportunities for athletes and (ostensibly) less racism.
The evening talk ended, patrons slowly and thoughtfully meandered out into the warm night air. David Davis had given us a more complete picture of Duke Kahanamoku and showed us that everything we thought we knew about him was both right and wrong. As the saying goes, "it's complicated."
---
Header photo by by Germán Poo-Caamaño/Flickr.com.