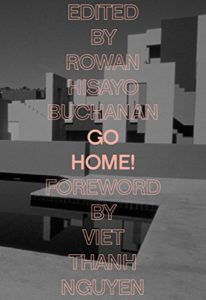 Go Home!
edited by Rowan Hisayo Buchanan
Feminist Press
March 13, 2018
ISBN: 9781936932016
The book takes its title from an epithet commonly thrown at Asians and Asian Americans, implying that we do not belong in the United States, regardless of residence, citizenship, or self-identification.  In response to the epithet, the pieces in this collection explore the personal and political dimensions of the phrase "Go home." In the face of an often-impossible, generally hate-filled command, the pieces here explore questions such as "What is home?"  "Am I there?" "Can I go back?" and "Do I want to?" The collection encompasses a variety of genres and styles, including poetry, prose, fiction, and memoir. Because of this range, a wide variety of readers should be able to find pieces that appeal to them.
Some pieces, like For Mitsue Yamada on Her 90th Birthday by Marilyn Chin, take a defiant stance that this country is indeed home; it belongs to us to do as we please! Other pieces redefine home as a person, or an apartment, or a dream. In some cases, home is an unexpected nightmare. One such story, Mothers Lock Up Your Daughters Because They Are Terrifying by Alice Sola Kim, appears very early in the anthology. In it, three teenage girls–all Korean adoptees–attempt to hold a seance to call up their mothers. It's telling how complete their disconnect from their birth families is and how strong their desire to connect is; they don't even know whether their mothers are dead, and therefore available to be called up as ghosts. It's unclear what they conjure, but it wants to lavish them with attention and shape them into better daughters. The maternal attention they craved quickly threatens to control them completely.
Diversity within Asian American literature is on full display in this collection. The authors and protagonists identify in a multitude of ethnicities, ages, genders, sexualities, immigrant histories, attitudes, and geographic locations. And so it should be. Asian Americans are far from a monolithic demographic group and it's refreshing to see a collection that showcases diversity within our communities.
Beyond the visible content of the book, it's notable that this book was created by Asian Americans at every step of production. It is developed, written, and edited by Asians and Asian Americans. If we're going to build a more diverse literary world, from authors and publishers to librarians and readers, it's important to have diverse representation at every step of the way.
Review by Molly Higgins
Reference and Digital Services Librarian