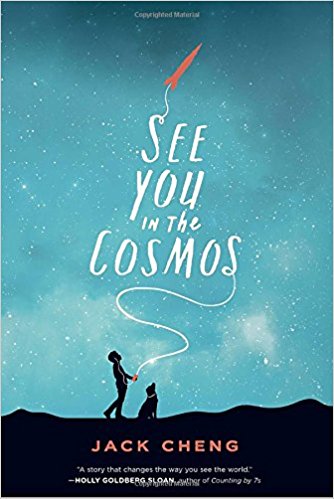 "See You In the Cosmos" by Jack Cheng
Performed by Kivlighan de Montebello
Dial Books
February 28, 2017
ISBN: 9781524750008
This is a charming tale of coming-of-age and acceptance. Eleven-year-old Alex Petroski adores outer space and pretty much every aspect of his life revolves around it somehow. He builds amateur rockets and has a dog named after his hero, Carl Sagan. Together they take to the road to compete in a rocket competition in New Mexico. Alex acquires some colorful acquaintances, experiences, and hard-earned insights along the way.
Alex's story is told through a series of audio recordings that he intends to send into outer space for posterity; he is meticulous in preserving his excitement and anxieties throughout his misadventures. We're offered a window into the outlook of a math whiz who, for all his intellectual acuity, is very isolated from the rest of his peers and society at large, and must grapple with the everyday of just being a kid. As a protagonist, Alex is stubbornly tenacious but also tenderly naïve. He is flawed and undergoes a considerable transformation throughout the course of the narrative; when we are first introduced to Alex he's exceedingly introverted and shy, but by the story's end he is less inhibited and self-aware of his shortcomings.
What really vivifies this yarn are the subtle brushes with a harsh reality that Alex struggles to understand. These include problems such as domestic abuse, mental illness, and familial grief. These serious issues are broached and approached with tact and understanding and, due to Alex's innocence, often times only the audience is aware of the taboo nature of these subjects. We, along with Alex, come to a better understanding of these issues.
The performances are also noteworthy, and the recording quality is pristine. The performers fully immerse themselves in their roles and convey a carousel of emotions in their voices. It is well and convincingly acted. The pacing of the deliveries is measured.
Equal parts October Sky, Rain Man, and The Curious Incident of the Dog in the Night-Time, this is a story that will have wide appeal. It ticks all the right boxes in terms of character development, plot momentum, and well-timed narrative beats that keep the audience engaged and thrilled throughout.
Review by Tommy Vinh Bui, MLIS
Los Angeles Public Library