Posted by
Melissa
on Jul 26, 2014 in
Featured
|
0 comments
by Jeremiah Paschke-Wood
With the Asian/Pacific American Librarians Association nearing its 35th Anniversary celebration, we continue remembering and honoring some of those instrumental in the founding of the organization. One such person is Lourdes Collantes.
Lourdes Collantes was born in a province 30 miles from Manila in the Philippines, one of seven children (McCook, 1998). The daughter of a professor at the University of the Philippines and a rice mill owner, she received her B.A. from the University of the Philippines. After helping with a cataloging project at UP as an undergrad, she decided to pursue a Master's in Library Science, enrolling at Rutgers University in 1958.
At Rutgers, Collantes received her Master's of Library Science degree and would also eventually pick up a M.Ed. and Ph.D. (in 1992) due to the scarcity of library jobs at the time. She served as an intern with East Orange (N.J.) Public Library for 14 months before returning to the Philippines to serve as Librarian-in-charge of the Social Sciences Division and Humanities and Reference at the University of the Philippines from 1961-67.
Named Assistant Professor in 1966, she also served as the Head of Acquisitions from 1968-71. In 1972, she became Assistant Librarian at Rutgers University's Mathematical Sciences Library and then, one year later, became Associate Librarian at State University of New York at Old Westbury. She held this position for 24 years, before being named Acting Director in 1997.
At the 1980 American Library Association conference in New York, Collantes, Suzine Har Nicolescu, Sharad Karkhanis, Conchita Pineda, Henry Chang, Betty Tsai, and Tamiye Trejo Meehan met and decided to found the Asian/Pacific American Librarians Association (Yamashita, 2000). Collantes would serve as president of APALA in 1983-84. But her involvement with the organization did not end there; she also chaired the Awards, Nominations and Constitutions and Bylaws Committees. Within the American Library Association, Collantes served on the ALA Awards Committee from 1984-88 and was the chair of the Pay Equity Committee from 1991-93 and chair of David Clift Scholarship Committee in 1986.
Among additional accolades, Collantes was named Delegate to the People to People Library and Information Science Delegation to the People's Republic of China in 1985, received Professional Development Librarian Research Awards from United University Professions in 1985 and 1987 and received the SUNY Chancellor's Award for Excellence in Librarianship in 1994.
She was also well-known in the library field for publications including "Degree of Agreement in Naming Objects and Concepts for Information Retrieval" in the Journal of the American Society for Information Science and edited Asian/Pacific American Librarians: A Cross Cultural Perspective.
Lourdes Collantes could not be reached for this article.
References
McCook, K. (1998). "Lourdes Collantes." Women of Color in Librarianship: An Oral History. Chicago, American Library Association
Yamashita, K. (2000). "Asian/Pacific American Librarians Association—A history of APALA and its founders." Library Trends, 49(1), 88-109. Last retrieved June 22, 2014, from: http://www.apalaweb.org/wpsandbox/wp-content/uploads/2010/07/apalahistory.pdf
Editing assistance provided by Alyssa Jocson.

APALA Travel Grant Recipient Gerie Ventura Keeps the Library Karma Going
by Ann Matsushima Chu
The Asian Pacific American Librarians Association (APALA) Scholarship and Awards Committee announced the following Travel Grant recipient during the ALA Annual Conference 2014 in Las Vegas:
Gerie Ventura has been a library paraprofessional for almost twenty years and currently is employed as the Circulation Operations Lead at Highline Community College in Des Moines, Washington. While brand new to APALA, Ventura was first introduced to the group and the travel grant through librarian colleague Karen Fernandez. Ventura currently attends Emporia State University on the Portland, Oregon campus with a concentration in Leadership and Administration, and plans to graduate in 2015. Ventura expresses excitement in learning the plans for APALA's upcoming conference in San Francisco, as well as being open to new opportunities for her involvement and leadership as she finishes up with library school.
When asked about her experiences at ALA, Ventura states that she was "on Cloud 9" during most of the 2014 ALA Conference, knowing how overwhelming the conference can be yet fueled by inspiring and empowering conversations with many APALA librarians and other librarians of color. The panel discussions of first-time directors and librarians of color, as well as an OCLC Symposium on the "future of libraries" were most thought provoking and challenging for Ventura.
Ventura makes note on how hearing current APALA President Eileen Bosch share stories about the challenges of assuming leadership roles in libraries has allowed her to feel more confident that meeting her educational goal of completing library school is possible. She is comforted by the fact that there is a network of librarians in and outside of APALA who are happy to lend an ear or offer advice. This open flow of librarians sharing their stories or assistance in the future allows Ventura to feel more comfortable and connected to the community of librarians.
Since Ventura is currently in library school, her primary interests lie in hearing the practical application process of information theory in her classes. While taking a Collection Development class, she enjoyed listening to the librarians from around the nation in the collection management interest group, as they discussed managing multiple digital products and how floating collections affect access to library materials for inner-city/urban public library customers.
Her vision for librarianship stems from the many librarians who have encouraged her throughout her entire educational career. "Keeping the karma going" is Ventura's motto to putting a friendly, accessible face to librarianship for APA library users and, especially, non-users. Ventura thinks there are many within the vast APA community who are not yet aware of the amazing library services that are available to and for them, at no cost. She excitedly envisions continuing "talking libraries" with her friends and family to inform them of how libraries can enrich their lives, both virtually and face-to-face, and of how to make deeper connections between APA community groups and many libraries that want to serve them.
If you've heard about "the big library conference" and have always wanted to attend, Ventura encourages you to apply for the 2015 APALA Travel Grant. She encourages future participants to "make the most out of it by finding workshops and sessions of interest to you and meet as many APALA members and librarians as you can. They will inspire and encourage you!"
Many thanks to Gerie Ventura! Best wishes as you continue your librarianship journey!
Editing assistance provided by Raymond Wang.

by Melissa Cardenas-Dow
Hanna Lee is a new librarian professional and is currently a Youth Services Librarian at the Princeton Public Library in New Jersey. Librarianship is not her first career, however. She spent quite a bit of time as a teacher in middle school and high school and as a student services staff member in a higher education setting.
Of her path to professional librarianship, Hanna writes:
After living in Mozambique for a little bit and volunteering at an international school library there, I finally decided to pursue librarianship. It was something I'd been planning to do since I was an avid library visitor as a child! I went to Rutgers University's School of Communication and Information, started interning at my current library, graduated in May 2013, and started working full-time there that August. I'm very, very lucky to be at a wonderful library with an incredibly engaged community.
Hanna is also a new APALA member, having just joined our association in the summer of 2013. Of her involvement, she writes:
I joined APALA last summer to get connected to other APA librarians. Having grown up in a predominantly [racially] white Midwestern suburb, and then having spent the majority of my adult life prior to now in largely black urban environments, I see APALA as a great way to join a larger community of people/librarians with whom I have some specific shared experiences. The website, the emails, and the community at large have been huge resources for me already, even if I haven't yet become as active within the organization as I would like. This year, I was particularly glad to be a member of APALA during the robust discussion following BCALA's statement regarding the 2016 ALA Annual Conference in Orlando, Florida. It's heartening to be a part of a body of thoughtful professionals who take each other's concerns seriously.
When asked about her decision to join ALA's Emerging Leaders program, Hanna's response:
Since I'm always on the lookout for opportunities for professional growth and enrichment, I learned about the ALA Emerging Leaders program on the ALA website. My library is an extremely supportive place, and we are encouraged to get involved in local and national associations. I was particularly interested in having a chance to meet and work with "emerging leaders" from all over the country and beyond. Since I'm still very new to the profession and ALA, it was really nice to have a more structured, intimate introduction to all of this.
For Hanna's ALA-EL project, she worked with Team E to develop a calculator that can quantitatively translate the value of local youth-oriented services and programs. Team E's project is sponsored by ALSC (Association for Library Service to Children). Of this project, Hanna writes:
 ALSC charged my group to create a library value calculator for youth services. Basically, an online form that calculates a library's value based on usage, like this one on ALA's website: http://www.ala.org/advocacy/advleg/advocacyuniversity/toolkit/makingthecase/
library_calculator. Except just specifically focused on youth services.

This project was intended to be of use to librarians in underserved communities who may benefit from such a tool when advocating for maintaining or increasing services. The more research our group did, though, the more we started to think that this project could not actually be accurate or helpful, since value calculators rely on a very simple return on investment model that fails to take into account the many complex, social benefits of library youth services.

So instead, we offered a glimpse into some of the other valuation methods being used in other areas—public libraries at large, school libraries, museums and other non-profits—and recommended that ALSC continue this project with a task force and future Emerging Leader teams. At the Annual Conference 2014, the ALSC Executive Board told us that they have decided to move forward with our recommendations, which was very exciting.
The ALA Emerging Leaders program is a great way for participants to become more involved with ALA, the professional library organization in the United States, and its affiliate organizations. When asked what she recommends aspiring ELs do to apply and participate in the program, especially those who may be interested but reluctant, Hanna has this to say:
Do it! It's a great way to get connected to passionate people and a wealth of resources, quickly. I would also encourage incoming Emerging Leaders to take some care in the selection of their project, if possible. The ALSC staff liaison and member guide on my project both went above and beyond, which made a huge difference in my experience. It also seems that the program leaders are truly interested in the feedback of participants (for example, they've made the cohorts much smaller, which was a hugely positive change), and I think the program is just going to continue to get better and better.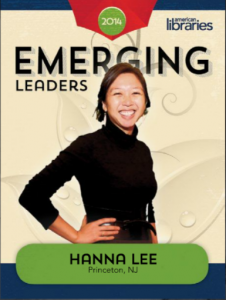 Thank you, Hanna, for sharing your great insight. We hope APALA members are encouraged to take part in the Emerging Leaders program.
Editing by Jaena Rae Cabrera.

by Melissa Cardenas-Dow
You may remember Raymond Pun when he was still working at The New York Public Library. He also wrote a "What's Your Normal?" essay for APALA that was published in May 2013. Since then, Ray, as he wants to be called, has moved to Shanghai, China, where he now works as a reference and research services librarian for the New York University campus there.
Of the beginnings of his librarian career, Ray writes:
I've been working in libraries since 2006 as an undergraduate intern and student worker. And like many people that I know, I just fell into the career of being a librarian. I was encouraged by my mentors in college to pursue a degree in library science since I was already working in one of the best research libraries in the world: The New York Public Library: Stephen A. Schwarzman Building.

I went to City University of New York: Queens College for my MLS, and then later received an MA in East Asian Studies from St. John's University, my alma mater. Initially I was getting an M.A. in Middle Eastern Studies, but due to the rise of the Arab Spring and ongoing conflicts in the Middle East (particularly in Egypt and Syria where I wanted to study), it just didn't seem like a viable idea to pursue that course of study since I wouldn't be able to visit those countries at all. So I switched regional studies. Maybe in the future I'll go back to finish up my M.A. in Middle Eastern Studies.

For my first professional job, I was promoted as a librarian in NYPL in 2010. Later, I was encouraged to apply for the ALA-EL program and for my current position as a reference and research services librarian in New York University Shanghai in China. I'm currently in Shanghai, collaboratively building the library collections and services to support the NYU community. It has been a fascinating experience and a great opportunity to start a new job and work abroad in a startup environment.
Since moving to Shanghai, Ray has scaled back his involvement with APALA. Of his most recent involvement in APALA, Ray writes:
Most recently, I've contributed articles to the newsletter and content for the website, volunteered my time to represent APALA in the exhibition booth at ALA annual and APALA's poster in the ALA Diversity and Outreach Fair. I've also managed to talk to people about the benefits of joining APALA and it has worked! So in that sense, I've been an "unofficial ambassador" for APALA. Since I am working abroad, it can be tricky to coordinate my involvement with the organization. Soon, I hope to be more active!
When asked about his decision to apply to the ALA Emerging Leaders program, Ray says:
I decided to apply to the ALA-EL program because I was interested in working on a group project that extended beyond my workplace, but I didn't know I would also be moving to China at that time. It became a "global project collaboration," in that sense. In the beginning, I also didn't think I could pull it off, but I did and it turned out to be a very good learning experience. I found out about this program, maybe 3 years ago, from NYPL colleagues who also went through the ALA-EL program. They said it was a good way to learn more about ALA and its leadership structure. I thought about being more active in ALA, but didn't know where to begin so the ALA-EL program seemed like a good start.
Ray worked with fellow APALA member, Monnee Tong, on the same ALA-EL project.
For my EL project, my team and I worked on an oral history video featuring two prominent Chinese American librarians who have contributed a lot to the profession. Since my project was sponsored by CALA (Chinese American Library Association), this was timely and appropriate. The two librarians are Dr. Lois Mai Chan from University of Kentucky and Dr. Tze-Chung Li from Dominican University. My project specifically focused on Dr. Lois Mai Chan. We interviewed her and some of her former students about the influence and impact Chan had on our profession. It was a lot of work, but it was also fun and rewarding. I worked closely with Monnee Tong from San Diego Public Library. She was my partner in crime on this video project. She was great to work with!
We asked Ray if he could give advice to anyone aspiring to take part in the ALA-EL program. He writes:
I would say — just apply for it. It's good to apply for things and learn about different application processes. And if you get accepted (great!) but not get sponsored by an association, you should still participate if you can. The way I see it, ALA-EL provides a little bit of networking, resume/CV boosting, but there's definitely a strong learning component. If you are interested in designing a project and working in a collaborative team, then this is perfect for you because you'll learn a lot about teamwork, communication, leadership, and project and time management. All of these are great experiences to put on your resume/CV, but also great interview stories to tell future employers.

For your ALA-EL application, focus on something unique about yourself–what do you think you are doing or can provide that many people can't? What are some challenges and obstacles that you overcame? Those character-defining moments can make you really stand out from a pool of applicants. Being part of APALA also gives you a wide connection to people who have participated in the EL program. They can give you advice on your essays, look over your resume/CV, or help brainstorm as well. So you aren't alone in the process!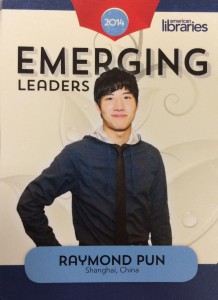 Ray was one of two CALA-sponsored 2014 Emerging Leaders.
Thank you very much, Ray. APALA is very proud and lucky to have you in our association. We look forward to your continuing involvement.
Editing assistance provided by Jaena Rae Cabrera.

by Melissa Cardenas-Dow
APALA member Monnee Tong has just finished her ALA Emerging Leaders experience with the rest of the 2014 ALA-EL class. She is a librarian at the San Diego Public Library system, working in the newly built Central Library @ Joan Λ Irwin Jacobs Common, the central branch of the system. Monnee has been at her position in San Diego since June 2012, when she was hired right after graduation from the iSchool at the University of Washington. She holds a B.A. in the History of Art from the University of California, Berkeley.
Of her career path to librarianship, Monnee writes:
Before I became a librarian, I worked in educational publishing, a very different professional environment from public libraries (even though they both involve books!)… It's been a whirlwind two years, jam-packed with a whole lot of learning, but it's all been worth it.

What I love most about being a librarian is what I missed in publishing—people! I love connecting with different people, whether they are my supportive and collaborative co-workers at SDPL, the teen interns I supervise in our new multimedia lab, the partner organizations we work with to bring free services and programs to the community, or the patron who just discovered the oversize section in Art & Music. People make my job rewarding, challenging, and never boring.

Monnee is a new APALA member and is part of the 2013-2015 Picture Book Literature Committee, which is responsible for selecting the awardees of the annual Asian American Literature prize for picture books. For Monnee, the work of the APALA Picture Book Literature Committee has a strong personal connection:

Although I'm from diverse California, I grew up in a rural town in the Sierra Foothills with almost no Asian Pacific American peers, especially none with parents who were immigrants like mine. I was always searching (and still searching!) for characters in books who resembled my experience in some way, shape or form. I'm really happy to be part of this committee so I can learn about and promote API authors and stories.
Monnee's ALA Emerging Leader team project is an interesting study in virtual collaboration. Of it, she writes:
Our Emerging Leader group (which included fellow ELs Ray Pun, Sam Suber, and Leila Rod-Welch,) worked on the project "Telling Chinese American Librarians' Stories" for the Chinese American Librarians Association (CALA). We created two short videos about notable Chinese American librarians Dr. Lois Mai Chan and Dr. Tze-chung Li. Both videos can be found on the CALA YouTube channel for your viewing pleasure.

I worked on the video about Dr. Lois Mai Chan with Ray Pun. (You may recognize her name if you read "Cataloging and Classification" in library school.) The big challenge was how to work on a video about Dr. Chan, who lives in Kentucky, and collaborate with Ray, who lives in Shanghai. I got pretty good at figuring out what time it was in Shanghai!

We also received a lot of help from the School of Library and Information Science at the University of Kentucky (UK) where Dr. Chan is Professor Emeritus. UK found these amazing vintage photos of Dr. Chan and filmed several interviews for us. We took the footage and edited it in iMovie and pared all the material down to a 13-minute video.

This project gave me the opportunity to build my video editing skills, to learn about a venerable and accomplished figure in the Chinese American and library communities, and to connect with CALA. Right before we started the project, I was assigned to coordinate San Diego Central Library's multimedia lab (the IDEA Lab,) and had just taken an iMovie workshop. The EL project gave me the opportunity to really work on my editing skills in iMovie and now I feel I can 'graduate' to either Adobe Premiere or Final Cut Pro.

Check out our final product on CALA's YouTube channel.
For the convenience of our readers, we have embedded Team G's video on Dr. Lois Mai Chan in this post. Please view the video above.
Monnee offers these pieces of advice to anyone interested in participating in the 2015 ALA Emerging Leaders cohort:
I would advise anyone thinking about applying to ensure that you have the time to devote to the program, because it does take a significant amount of time (at least in my opinion it did!). At times, it was reminiscent of library school (which I did online), so I'm glad that the two didn't coincide. I would suggest that anyone currently in an online program apply later. That way, you won't have another online project in addition to your current coursework.

When I was thinking of applying, I found this post from Abby the Librarian helpful (although I should have paid more attention to the fifth bullet point, addressing public, children's, and teen librarians—Abby, you were right!). If you know someone that went through the program you can talk to, reach out to her/him. I didn't know anyone but relied on what I read online, and I wish I had reached out to people to get a better sense of what the program entailed.

Despite the time involved, I'm still glad I did the EL program. I got to attend my first ALA Midwinter and Annual Conferences, meet library folk from around the country and world, and be part of a project that gives back to the Chinese American and library communities. I'm also so grateful to my colleagues and mentors at my library, who were all so supportive and excited for me, and proud that I was representing them to the greater library community.

If you're thinking about applying, feel free to reach out to me—you can find me on Twitter @librarianmo or at monneetong.com. Good luck!
Monnee, we are very happy and proud that you are among us in APALA!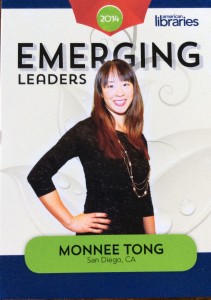 Again, should you wish to contact Monnee regarding the ALA Emerging Leaders program, please find her on Twitter @librarianmo or through her blog, Monnee Tong, Librarian.
Editing assistance by Jaena Rae Cabrera.

Bryan Thao Worra: On Poetry, APALA and Libraries
by Jaena Rae Cabrera
Bryan Thao Worra is a Lao American writer who primarily writes poetry. He has been an APALA member since 2006. He is the first Laotian American to receive a Fellowship in Literature from the National Endowment for the Arts (NEA). Thao Worra's most recent poetry collection, "Demonstra," was released in December 2013.
Personal work & influences
Jaena Rae Cabrera (JRC): Please introduce yourself and briefly describe your literary work and career path to date.
Bryan Thao Worra (BTW): Well, hello, everyone. My name is Bryan Thao Worra, and I'm a Lao American writer, primarily a poet with work appearing in over 100 journals and publications internationally. My work has been a part of the London Summer Games, the Smithsonian's "I Want The Wide American Earth: An Asian Pacific American Story," and at least one stop on the Minnesota light rail system. I've also done numerous articles on the Lao and Asian American community for community newspapers such as the Twin Cities Daily Planet, Asian American Press and lately Little Laos on the Prairie.
My career path, like any writer's, has been filled with many different stops along the way. I began with Hmong National Development in Washington D.C., tried my hand at a community newspaper for a while, then worked with other non-profit organizations such as Asian Media Access, the Hmong American Institute for Learning, the Lao Assistance Center and the National Youth Leadership Council, to name a few. These days I do a lot of work as a freelance grant writer.
Growing up, I often don't think I've ever been as comfortable in my home as I was in a library or a bookstore. Many of my books were written in libraries and archives where I could have so many vital works at my fingertips.
JRC: How does your own personal diversity influence your writing and/or the diversity of your readership?
BTW: I often wonder about that myself. Hermann Hesse once wrote that a person's true profession was finding their way to the center of themselves, and I took that to heart. My writing has often been about taking a journey amid so many things that could be an influence on you, and then trying to decide, what will you keep, what will you let define you, what will you redefine. In my own life, when I couldn't find things that could tell me who I was for certain, it required me to respond to those things that were 'outside' of who I was. "Or were they?" as I asked in my first full-length collection, On The Other Side Of The Eye.
I'd been having an interesting conversation lately with some friends that many of my first readers were from outside of my communities. International audiences in London, Singapore, Hong Kong, and France, for example, who were interested in how I was grappling with the issues of the world. What I was seeing, and how I was responding to that. Then, slowly, over time, more and more readers of mine emerged in Minnesota and the rest of the U.S.
It's been interesting to see so many different corners of the world my readers come from. Italians living in Vientiane, Parisians who love poetry, community activists in Egypt and Washington D.C., fans of science fiction writer H.P. Lovecraft, Lao American torch singers in Tennessee, and a prisoner or two in Reno, etc. I'm thankful it was an early lesson I'd learned: That you can never really be quite certain where your readers will come from in your life, who you'll have an influence on. In many ways, I liken it to the arc of Japanese American artist Larry Hama, who created the backstory for the G.I. Joe toyline in the 1980s. Few knew he was Asian American during those years, yet what an influence he had on so many!
The right words in the hands of the right person in the right place can change worlds.
JRC: What drew you to poetry?
BTW: Having grown up as a transcultural adoptee, I didn't have much access to the full details of my birth family's story. As an adoptee from Laos in the 1970s and 80s, I also didn't have many resources to turn to about Laos, especially books in our own words. Much of our history had been classified, obfuscated or utterly destroyed in the course of the Secret War for Laos that trying to tell a conventional linear narrative became an exercise in futility for me for many years. Poetry gave me a way to respond to what I -COULD- learn in those years and there were elements of poetry to address many of the ambiguous elements of our story that proved helpful in moving forward as a writer.
APALA & libraries
JRC: How long have you been an APALA member? What benefits does APALA provide to you? What do you feel you bring to APALA, and have you had the opportunity to actively participate in the organization?
BTW: I've been a member of APALA since at least 2006, I believe, and I've enjoyed keeping abreast of the many different issues my fellow APALA members have faced. As I work with so many archives and other teams building libraries and exhibits that include the Lao American perspective, I've been able to network with some amazing figures who inspire me and remind me of our deep potential together. These last few years have been particularly busy for me, but I'm looking forward to the next APALA convening!
JRC: Please describe an instance when libraries and/or archives played a beneficial role in your work.
BTW: Growing up, I often don't think I've ever been as comfortable in my home as I was in a library or a bookstore. Many of my books were written in libraries and archives where I could have so many vital works at my fingertips. When you look for books on the Lao experience, you can't really walk into a big box bookstore and find much except for a travel guide if you're lucky, a footnote from a book on the Vietnam War, etc. But the libraries in Minnesota and the archives at UC Irvine or Dallas-Fort Worth were indispensable. Almost a decade later, I'm still using some of the notes I took from the old CAT/Air-America archives in Texas about the daily life in Laos as the old U.S. pilots flying there saw it.
We must not let bookshelves without our stories become symbols of exclusion.
JRC: What advice would you give librarians and information professionals, especially those from diverse backgrounds who work with diverse populations, to promote literacy and readership?
BTW: This probably goes against the grain of many professionals I know who are making a big push to create books featuring characters and stories from diverse backgrounds, but I think we can't be afraid to show where the gaps are, or what we see in great books outside of our youths' immediate culture.
As an example I look back at the roots of the Paj Ntaub Voice Hmong Literary Journal, that emerged from a question nearly 20 years ago: "Where were our stories?" The founders were reading and reading voraciously, trying to find themselves. And they could handle good stories from non-Hmong, non-Asian perspectives, but when they saw that gulf, that absence of materials, it stunned them. We can consider ourselves fortunate that they didn't just accept that, but opted to fill in the gaps themselves if no one else would.
We encourage literacy and readership by developing programming that shows our diverse audiences that they can add their voices to the great body of world arts and letters. Indeed, we expect them to. We must not let bookshelves without our stories become symbols of exclusion. Of course, this can be a daunting dilemma to overcome, but we will all grow from being a part of that journey to solve it.
My writing has often been about taking a journey amid so many things that could be an influence on you, and then trying to decide, what will you keep, what will you let define you, what will you redefine.
JRC: What message would you give to librarians/archivists/writers/artists regarding their value in the field you work in?
BTW: Over the years, as a poet, I've learned that my best advice tends to come one-on-one with my students and colleagues. Despite how often the systems seem monolithic, there's rarely any one-size-fits all advice that I, or anyone, can really offer given the many different unique contexts everyone has. But perhaps one exception might simply be one about the humanity of our fields. To remember to see our work not about gathering, organizing and curating books as so many words on a page, but to get back to the essential core of it all: Souls talking to souls.
The right words in the hands of the right person in the right place can change worlds.
JRC: What current trends in publishing, reading habits, and distribution of library materials concern you the most? What thoughts do you have on these trends?
BTW: Of course, I'm as appalled as anyone by the trend to have more publishers focusing on marketing than editing. We're seeing far too many badly edited books filled with typos, grammar errors and the like making their way into the market.  But even worse than that is just a surfeit of bland ideas. I think that's corrosive. But we've been saying that for centuries. A particular concern for me as a writer, however, is seeing a trend for young readers of color to primarily seek out 'practical' books and 'self-help' books. While there's certainly a need and space for them I'd always be concerned they encourage our youth to keep the world as it is, not as it can be.
I've also become a little dismayed at a somewhat unspoken trend emerging in archives and collections serving newer American communities where library/archive materials are being vandalized by readers who take umbrage at particular terms or political positions expressed by the authors. It's been frustrating to find a copy of a particular book I'd been looking for only to find it filled with words crossed out, pages missing, etc.  But that's part of the journey towards democracy, and finding ways to encourage more responsible use of libraries.
I'm thankful it was an early lesson I'd learned: That you can never really be quite certain where your readers will come from in your life, who you'll have an influence on.
JRC: What are your thoughts on libraries (all types: academic, public, special, etc.) and your thoughts on the role/significance of poetry in a publishing/reading world dominated by prose and audiovisual media (film, television, videos, even social media, etc.)?
BTW: I'm part of a generation that was fortunate to see such a wide variety of information mediums available and how they came and went. So I tend to be more philosophical about it all. I wouldn't ask most libraries to keep ancient cuneiform regularly on hand, or 8-tracks or Beta tapes or large stacks of VHS tapes. Space considerations and all. But libraries and poets are still essential to democracy. Spaces where one might improve themselves without having to worry, have I bought this or that, do I believe this or that, and so on.
I think we will see more and more libraries making a shift towards becoming presentation and discussion spaces. I don't think many communities will tolerate moves like some libraries to become ALL e-readers and computer terminals, but we will see a push for greater community engagement. We're going to have to get imaginative to push through all of this together, but I'm an old-fashioned optimist. I think it can be done, and we'll have a better society for it.
JRC: What are your thoughts on e-books and libraries? Perhaps in terms of use, circulation and access?
There are a number of countries in Asia where my work would be considered touchy, or sensitive. Or the work of many other authors. A pdf, or some form of an e-book is much easier to secret away than a physical copy of such a work. So I keep open-minded about them, although I know many who are afraid of seeing their work in electronic form. I think the interesting and emerging challenge I'd like to see for libraries is how they can encourage more local books and texts to come forward. Oral histories, photographic archives, etc. that get regularly curated and organized for students and community members to access. There would certainly be a good many files submitted for consideration that might lack historic or literary merit, but I personally think we could benefit from having greater spaces to store and present the better works that deepen the human dialogue.
Writing & publishing
JRC: What advice would you give young professionals, especially those from diverse backgrounds, who are interested in a career in poetry or writing in general?
BTW: There are folks who will tell you there's no money in poetry or writing. But they've been saying that for centuries, and people still write. You have to be open-minded, resilient, and prepared for a journey that often meanders because a writer's career isn't linear or certain by any means. Whenever possible, write from the heart, but don't get burned at the stake for it, unless it's REALLY worth it.
JRC: With grants and financial assistance being very limited, how do you make your work so readily available to download online for free? What are some financial resources that you use to support your writing?
There's a classical maxim from Asia, "toss out a brick to attract jade." I've found that to be true. There are a great many poets and writers who've been locked into models that teach them "if you're good at something, never do it for free." "No man but a blockhead ever wrote, except for money," Samuel Johnson once sneered. But in the world today, I think successful writers and artists understand that a certain fraction of your work NEEDS to be out there for free. Readers need to be able to sample some of your work before seeking it out.  Fortunately, over the years, my readers have also come to see that having a physical copy of my work on hand is also deeply satisfying, and a physical book is more interesting to have signed, than an e-reader.
I've been in the fortunate position that poetry and grant-writing for non-profits or writing marketing materials for small businesses often dovetail nicely. One isn't obliged to overwrite a subject. You need an economy of words and as a poet, you're trained to use a minimum word count effectively and persuasively.
JRC: How can more authors work with their publishers to release their work in an e-book format?
That's going to vary from publisher to publisher and what they've got set up. Smaller presses will often be more inclined to work with you on it. But you also have to do due diligence and have very clear understanding on your rights. Some larger publishers try to claim that your book is not out of print once it's in e-book format, so you don't get your rights back to a book even if the physical version has been out of print for over a decade or so. Or your rights might get sold off in a buy-out, etc.  But I think the careful author can make a great go at e-books and try to do it in a way that becomes a win-win-win for the author, the publisher and their readers. Who can ask for anything more?
Editing assistance provided by Melissa Cardenas-Dow and Raymond Wang.