Exciting news: acclaimed author and APALA member Janet Wong is generously donating 30 copies of her latest book, "This Next New Year" (Chinese bilingual edition), which will be made available to attendees of APALA's MidWinter Social Dinner on January 25th!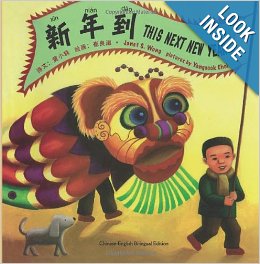 APALA and CALA members Minjie Chen, Kai Li, and Paul Lai worked on the Chinese translation when Janet asked for volunteers last year and now you can see the fruits of our colleagues' work! (For a description of the book, see its Amazon listing for more details.)
Not only will you hear from up-and-coming authors Ellen Oh and Soman Chainani and have the opportunity to pick up signed copies of their books, but you could also receive a free copy of Janet Wong's new book just in time for the Lunar New Year! They won't be available anywhere else at ALA and supplies are limited, so hurry and register to secure your copy!
Reminder: Early bird registration ends today, Friday, January 17th.