15 came out for our first Santa Barbara APALA social, on June 7!  It's what we all call a great success!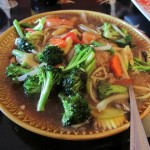 The social was held at Zen Yai Thai in downtown Santa Barbara.  The company was inspiring,  food was delicious and spicy, and the weather was perfect  – we couldn't have asked for more! The first Thursday of the month was chosen for the celebration of arts, culture, social activism and entertainment that we could all partake in after dinner.
Special thanks to Katrina and her husband for driving out 70 miles (all the way from Santa Maria) to meet us! Angela donated lovely terrariums for door prizes and Kristen lead our art walk up State Street, where we cheered on the Bike Moves parade.
There will be a short write up in the next APALA newsletter and a picture or two will be included.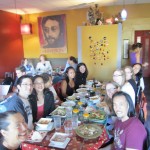 Have ideas for future socials? Know a good karaoke spot? Any topics you'd like to cover? Let us know!
Look forward to seeing your smiling faces at the next social!