DORA HO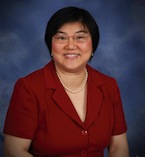 Dora Ho,
Young Adult Librarian/Program Specialist
Los Angeles Public Library
Youth ServicesEducation:
M.L.S. with specialization in Special Libraries, UCLA 1992.Membership:
ALA, California Library Association, APALA Life member, CALA Life member
ALA Activities:
ALA Councilor at large, 2003-2014
ALA Executive Board, 2011-2014
ALA Budget Analysis Review Committee, 2012-2014
ALA YALSA, Membership Committee, member, 1999-2004
New Members Round Table, President 2001-2002
Other Library Activities:
Chinese American Librarians Association, President, 2007-2008
Chinese American Librarians Association, Treasurer 2001-2006
Chinese American Librarians Association, Organizational Manual Committee, Chair 2010-12
California Library Association, Scholarship Committee, member 2008-2011, 2012-2013
National Conference on Asian Pacific American Librarians, Webmaster
Asian Pacific American Librarians Association – Asian/Pacific American Award for Literature Committee, Chair 2002-Present
Asian Pacific American Librarians Association, Treasurer 2013-2014
JCLC 2012 Steering Committee, CALA Representative, and
Finance Committee Chair
Current and past APALA Activities
I have been chair/co-chair of the APALA's Literature Award Committee since 2002. It has been a very rewarding experience for me to coordinate books from publishers for committee chairs. I am proud to be part of the Literature Award Team that helps promote Asian/Pacific cultures and heritage. In the past, I have been a mentor for the APALA Mentoring Program. Moreover, I am especially honored to be part of the APALA's 35th Anniversary Committee. This will be another milestone for APALA and I am eager to participate and to move forward with APALA to bigger and better things.
Statement of concern:
As a team player, I am eager to learn as well as contribute to APALA. Previously, I served as the Chinese American Librarian Association (CALA) treasurer for five years. I have extensive experience with budgeting, financial planning, and filing tax forms. As the Finance chair of JCLC, I was able to maintain our budget and kept spending to a minimum, in order to achieve a high profit margin for the conference. As a member of the ALA/BARC (Budget Analysis Review Committee), I have worked with multi-million dollars budget.
It was a great privilege and honor to be elected last year as APALA's treasurer. Taking care of money has always been my special skill. In addition, I really enjoy serving as the treasurer for APALA. In the coming year I will continue to assist the executive board in making sound financial decisions that will affect our members. I will continue to keep APALA financial strong and stable so that we are able find ways to benefit our members. It is important to have an experienced treasurer especially when APALA is planning for the 35th Anniversary celebration in 2015. Thank you for your consideration!