by Melissa I. Cardenas-Dow
Jeremiah Paschke-Wood joined APALA in 2013 and is currently the Head of Instruction at the Edith Garland Dupré Library at the University of Louisiana at Lafayette. He attended library school at University of Arizona's School of Information Resources and Library Science.
Asked about his reasons for joining APALA, Jeremiah writes:
I thought APALA presented a nice opportunity to do what I could to advocate for librarians of Asian American heritage (as well as other less-represented backgrounds) as well as interact/network with and get to know some other cool librarians that could appreciate good home-cooked Filipino and Chinese food.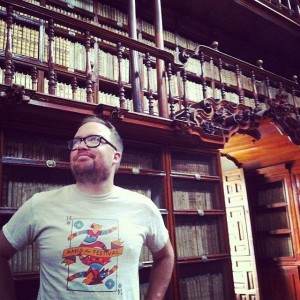 Jeremiah is of mixed heritage. Regarding his ethnic background, he states:
So, contrary to how it probably appears via my picture (or name), I'm ¼ Filipino on my mother's side. She was born in Hawaii to a Filipino mother and a very-white service member father. My dad's side is very Scandinavian as well. So the end result is a 6-foot-tall, red-bearded white guy with a lot of extended family with names like Corazon and Bonifacio who only looks Filipino when he shaves everything but the moustache off. Best of both worlds, I guess, right? My wife and I also shared names when we got married, taking my family name even further away from the Asian side of the family. I've always been very proud to grow up in a very diverse and inclusive family and culture, and I can honestly say that I feel as in touch with the "minority" side of my upbringing as the white one.
Jeremiah's professional role as an instruction librarian has required him to invest time and effort on the ACRL standards and teaching methods. We asked him about his current professional outlook, goals and interests:
I think one thing that we have to do as librarians moving forward, particularly with issues with funding and technological changes, is find ways to be more proactive in both dealing with students and faculty. I've tried to be more involved with outreach and "hitting the streets" to create those relationships with the university community that might not have existed before. I think it's also important, particularly with demand for library instruction increasing, to find new ways to provide library instruction that is actually relevant and useful for students–and doesn't take 40 hours a week to do so. In terms of other professional goals and interests, I'd like to continue to meet and work with lots of librarians from different backgrounds and upbringings–particularly since so many of the students we work with are from different communities and cultures.
Jeremiah is an eloquent writer and blogger. He had worked with APALA's Newsletter & Publications Committee and the Web Content Subcommittee on many tasks and authored a number of articles.
Interview conducted by Melissa I. Cardenas-Dow. Editing and writing support provided by Alyssa Jocson Porter.