Tricia Sung is a new APALA member and has only been part of our association for about a year. She currently works as a research analyst at the office of institutional research in the state of Georgia. She has done considerable work in civil rights, voting rights, immigrant rights, and civic engagement and advocacy in the Deep South with the OCA-Georgia (Organization of Chinese Americans-Georgia Chapter), League of Women Voters of Georgia, and the Asian American Peace Officers of Georgia (AAPOG), organizations in which she has held (or continues to hold) upper administrative and leadership positions.
Tricia's background is in psychology and oral history research. In addition to her institutional research duties, she works as the executive director of the Asian Pacific American Historical Society (APAHS). Of APAHS, Tricia writes:
[APAHS was] founded in 2010 with the mission of documenting, preserving and educating the public about Asian Pacific American history and heritage in the U.S. South. Since 2010, we have been holding an annual Asian Pacific American Heritage Month Symposium at the National Archives in Atlanta and working with StoryCorps to document over 100 diverse APA life experiences which are archived at the U.S. Library of Congress. This past year, we began working with APALA on heritage programs with an APALA member chairing a session on APA LGBTQ stories at the 2014 May APA Heritage Month Symposium. APAHS is also very pleased to be a recipient of the APALA Talk Story Grant that will allow us to present an Autumn Moon Festival celebration in partnership with the Chamblee Library, part of the Dekalb County Public Library system. APAHS has worked in partnership with local, state, and federal agencies to celebrate APA heritage in the South.
At the time of this writing, Tricia does not work as a librarian nor has a degree in librarianship. However, she wants to support our efforts, the continuing outreach to increase APA representation in the library and information professions, and the advocacy and educational work we do through ALA and APALA. Of becoming a librarian, she states:
This year, I attended an ALA Knowledge Alliance program in Atlanta (http://knowledgealliance.org), an initiative to diversify the library profession. After learning at the ALA Knowledge Alliance workshop about the broad range of careers in libraries, research and knowledge management, and meeting so many supportive professionals,  I've decided to pursue my lifelong dream of working in the library profession and will be applying for programs specializing in digital archives & media and the Asian Pacific American experience.  Suggestions for programs are welcomed & appreciated! Please email triciasung@gmail.com. Thanks!
As we do of all of our MHS participants, we asked Tricia about her own ethnic and racial background. She told us her immigrant journey story that is both intensely familiar and personal:
I am Taiwanese American and my family lived in South America before coming to the U.S., so I like to embrace my Latina roots as well. I grew up, like many other kids, going to the public library after school to do homework and have a safe place to be while my parents were working. I remember reading so many books, and being so thankful for the opportunity to be transported to different lands and experiences through the books I was able to read. And since it was New York, they had so many books in Chinese, so that I borrowed a whole bunch for my grandmother. As a youngster, I promised myself that if I ever made a million dollars, that I would donate it to the public library in appreciation for the love of reading they instilled in me. Being a parent myself now, I am always looking for library materials that reflect the multicultural realities of children today and work through the Asian Pacific American Historical Society in partnership with local public libraries and APA cultural organizations to hold programs which highlight APA heritage and culture.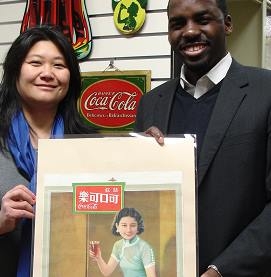 Tricia dreams of one day establishing a museum in Atlanta, Ga., one dedicated to the diversity of APA lived experiences in the U.S. South.
Please give Tricia a warm welcome to the APALA fold. Tricia, we are very fortunate to have you as a fellow APALA member, ally, and colleague.
Article written by Melissa Cardenas-Dow, with editing assistance by Raymond Wang.