This theme of a nomad is so apt, now that I live and work in the Middle East as the Head of Cataloging and Metadata Services at the American University in Cairo. It was a long journey from being born in Phitsanulok, Thailand, then having to uproot to Chiangmai, Thailand after my father moved to our current family home. There, I attended Chiangmai University, where I got my undergraduate degree. After graduation, I got a scholarship to attend St. Olaf College in Northfield, MN, and continued my journey on to Madison, WI, where I got my MLS. After graduation, I got a one year visa for practical training and got a job as an LC Cataloger at Cornell University in Ithaca, NY.  After the training, I went back to Chiangmai briefly to try out a teaching job, before deciding to return to Ithaca to marry and spend my life with Ernie, my husband. From Ithaca, education and the (travel) pulses in my feet (a Thai expression, equivalent to 'wanderlust') took my family back to Madison, WI for graduate school, then Atlanta, GA, where Ernie got his first professional librarian position and my daughter, Alyssa, was born. I took my family back to Madison, WI to continue my study in the doctoral program at UW-Madison-SLIS. My dissertation research took us back to Thailand to do fieldwork research in a Northern Thai valley district with a weavers' cooperative. Due to the difficulty of village life on my family, we decided to return to Madison, even though my fieldwork was not completed. While I was working on my dissertation, I got a teaching position in London, Ontario, Canada, where I taught organization of information, diversity in librarianship, social science resources and scholarly communication for three years. After having difficulties completing my dissertation while teaching full-time in Canada, I took my family back to the U.S. and changed my career track to become a professional librarian and accepted the Catalog Librarian position at St. Cloud State University in Minnesota. My last position prior to relocating to Egypt was in Lincoln, NE as a Metadata and Multicultural Services Librarian and Women's and Gender Studies Library Liaison.
I see my life's "itinerary" literally recorded on my mother's wall calendar with one big page filled with my addresses and phone numbers over the years. This record on her wall calendar is a testament to my nomadic life. Although I hardly planned for my life to turn out like this, deep down in my psyche, I know this must have to do with my curiosity about the world, my yearning for adventure and new experiences in life. I love to learn and explore new things, ideas, peoples and places. I am not one who stays still, obviously. To travel around like I have done, however, requires one to love adventure and embrace differences. One has to be willing to learn and adjust to some drastic cultural differences, languages and general disruption of life routines. It is not too far off to say that it requires one to be both brave and bold. This is not something for the faint of heart. One needs to be resilient since there is much difficulty to overcome in living in a new culture. But the positive experience one will gain is far greater and worthy of all the troubles one may have to go through. I won't trade this for anything else.
I am fortunate to have love and aptitude for learning languages. My native tongue is in Thai, but I have learned English, Japanese, French and German, although I do not retain much of these language skills. However, these learning experiences trained me in new language acquisition, which is very handy now that I am learning Arabic. Like learning any new language, you have to be dedicated and willing to give it time and effort. I told my Egyptian staff to give me a year to master the Egyptian Arabic language. I'd better keep my word.
Beyond overcoming the language barrier, one also has to manage cultural differences. Basically, though, if you engage with others with respect, dignity and compassion, and expend the effort to learn their cultures, you will overcome the differences over time and will learn how much in common we all have. We all share the basic human experiences of love, losses and joy in our lives. And I have applied the above principles in my new life in Cairo, Egypt, as well. I will be at AUC for the next couple of years. And I would like to share a bit of my experience of living and working in Egypt.
So what's my normal in Cairo?
I came to Egypt at a time of uncertainty, after the Arab Spring that toppled Mubarak, and subsequently the revolution that toppled the Former President Morsi. The protests still continue, mostly after the Friday prayers at various squares throughout the governorates of Cairo, Alexandria, Suez, Fayoum and so on. Maadi, the suburb of Cairo where we rent an apartment, has seen some protest marches pass through, but we have not seen the violent clashes depicted in the media. In some way, we live in a bubble, not much affected by the unrest, so far.
Normally, my day starts with a bus ride provided by AUC, from a square in Maadi to the American University in Cairo, located in New Cairo. My ride starts at 8 a.m. and lasts for an hour on a good-traffic day. I get on my return trip at 5:15 p.m., arriving in Maadi between 6:30 to 7 p.m. or later, depending on the traffic. With free WiFi on the bus, I usually get some work done on the way to work. I enjoy working with my 8.5 FTE Egyptian staff very much. However, I do have some personnel issues to work through; most recently is the death of a new staff member who was so promising with his multilingual skills and a master's degree. His death is a great loss for the whole library. As for other issues, we also have a tighter budget. It is a direct impact of the current political unrest in Egypt that hurt the economy and businesses. Other issues are the need for training, the documentation of cataloging procedures, quality control and efficiency in our process, to name a few. In many ways, we face similar issues other university libraries in North America and elsewhere are wrestling with; from e-books and e-videos, patron-driven acquisition, tightening budgets, the need to repurpose library space, redesign the liaisons' responsibilities, and so on. In all, it has been a busy time since I started my current position at AUC on September 1st this year.
Although I'm no newbie to adjusting to a new culture, I still found myself being surprised by the differences. For example, I found learning Arabic, especially learning how to write from right to left, to be a huge strain. It goes against my writing habit as a right-handed person accustomed to writing from left to right to switch to reading and writing in Arabic from right to left. I also try to accommodate staff's praying and fasting schedule especially during Islamic holidays, from Ramadan to the Eid al-Adha. I also had to learn about Islamic funeral rites due to the loss of a member of my staff in a tragic car accident. Another surprise is how the numbering of floors of buildings start with the ground floor, as in the British system. Or a work week starts from Sunday and ends on Thursday. TGIF no longer works as an expression for the joy of resting from the work week!  And oh, the Cairo traffic! I dread crossing the streets here with the fast and unruly driving, certainly not suitable for a faint of heart. I also found the communication style to be more personal and face-to-face, with less emphasis on work e-mails.
I have to say that I love my new job and the great opportunities to practice my leadership skills. I hope my experiences at AUC will pave the road of my career toward library administration. The University also provides great benefits, from a furnished apartment owned by AUC (I do pay rent), free bus services from Maadi to New Cairo, and generous salary and benefits. The Faculty Services also organizes weekend trips around Cairo and outside of Cairo. Our recent trip was to the Red Sea at Ain Sokhna, a resort town, with visits to the Coptic monasteries dating back to more than a thousand years old. Next week, we will go to Islamic Cairo, a well-known historic area of central Cairo, and I will post the photos from the trips on my Facebook page at https://www.facebook.com/joyjanjao
Last but not least, I hope to visit with you all at the ALA Annual Conference in Las Vegas in 2014. See you again soon, insha' Allah (in God's will, a very common expression in Arabic language).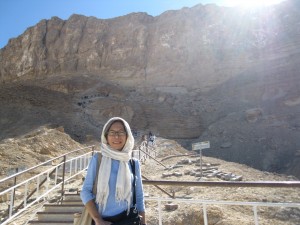 Anchalee (Joy) Panigabutra-Roberts
Head of Cataloging and Metadata Services
American University in Cairo
New Cairo, Egypt
Editing assistance provided by Jaena Rae Cabrera and Melissa Cardenas-Dow.
---
Resources:
American University in Cairo http://www.aucegypt.edu
American University in Cairo Libraries http://library.aucegypt.edu/
American University in Cairo Press http://www.aucpress.com/
AMICAL (our consortium) http://www.amicalnet.org/