The inaugural Asian American Literature Festival ran from July 27-29, 2017 in Washington, D.C. at the Smithsonian, the Library of Congress, The Phillips Collection and DuPont Underground. The festival featured over 80 Asian American writers, including past APALA Literature Award winners Don Lee and Karen Tei Yamashita; authors Akhil Sharma, Thi Bui, and Alexander Chee; poets Li-Young Lee and Beau Sia, and past APALA President's Program presenters and editors of the Asian American Literary Review, Lawrence-Minh Bùi Davis and Gerald Maa. In addition, the festival featured the premiere of an all-Asian American issue of POETRY magazine, writer mentoring sessions, workshops and maker spaces, writer-scholar speed-dating, an animated book trailer for a chapter from Pulitzer Prize and APALA Literature Award winner Viet Nguyen's forthcoming novel The Committed (sequel to The Sympathizer), and a collective reading of Carlos Bulosan's classic, America is in the Heart.
APALA member and Associate Professor of Library and Information Science at St. Catherine University Sarah Park Dahlen organized the panel "Asian American Children's Literature" with authors Ellen Oh (We Need Diverse Books; The Dragon Chronicles), Minh Lê (Let Me Finish!), Hena Khan (Amina's Voice and Golden Domes and Silver Lanterns) and Susan Tan (Cilla Lee-Jenkins: Future Author Extraordinaire). Here, Sarah sits down with APALA member Eugenia Beh, to share her thoughts on the festival, as well as on the role of children's literature in Asian American literature.
---
Eugenia Beh (EB): How did you become involved in the festival?
Sarah Park Dahlen (SPD):In 2016, author Marina Budhos visited St. Kate's as part of her visit with Addendum Books. During our conversation she told me that the Smithsonian was planning an Asian American Literature Festival. I contacted my friend Terry Hong (Smithsonian Book Dragon), who used to work for the Smithsonian Asian Pacific American Center, and she put me in touch with Lawrence-Minh Bùi Davis, curator of Asian Pacific American Studies and primary organizer of the festival. After I introduced myself and expressed interest in the festival, particularly regarding youth literature, he asked if I would be interested in organizing a children's literature panel! YES!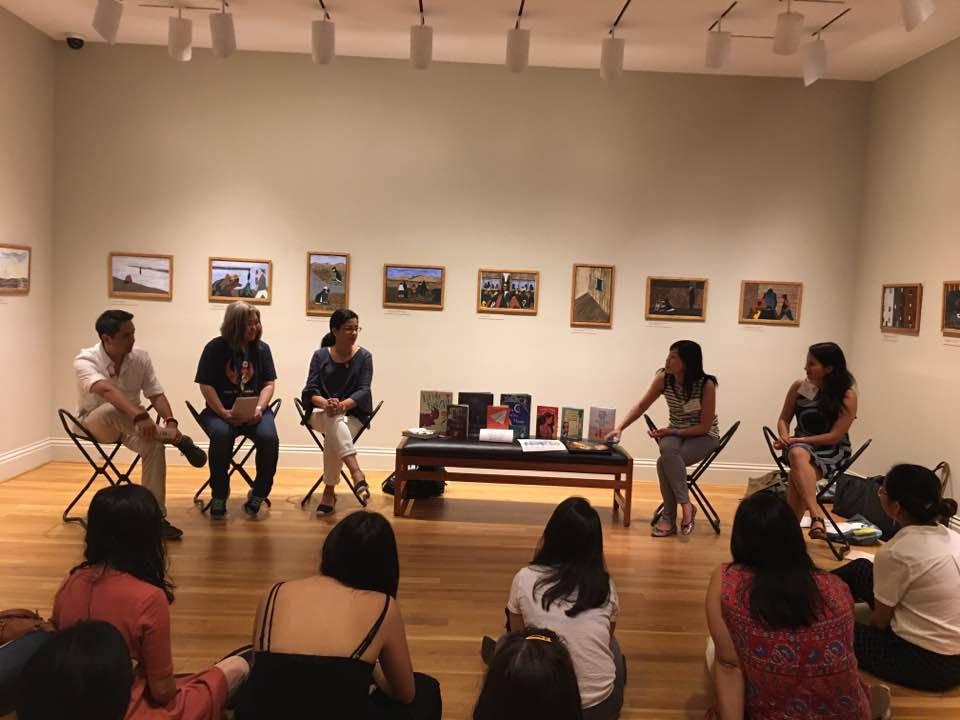 (EB): What were some of your expectations going into the festival and were they met?
(SPD): First, I was really looking forward to being surrounded by Asian American writers, listening to them give testimony to our stories and our truths. Because I was an undergraduate and graduate Asian American Studies student, and have since shifted to Library and Information Science, to be in that space sort of felt like I was home again. Second, Paul Lai and I are working on a book about Asian American youth literature, so I really wanted to absorb everything and be able to put our book into a larger context about Asian American literature. In those respects, Karen Tei Yamashita's concluding Intimate Lecture was pretty much everything I wanted, needed, and hoped to hear.
(EB): What were some of the festival's highlights for you?
(SPD): The whole festival was amazing, so this is a difficult question, but I'll share three: First, when I started graduate school, I didn't even know there was such a thing as Asian American children's literature. Fifteen years later, I facilitated an Asian American children's literature panel with Asian American writers Hena Khan, Minh Lê, Ellen Oh, and Susan Tan at the first ever Asian American Literature Festival at the Smithsonian. This blows my mind. Second, I met some writers and scholars I really admire – Min Hyoung Song, Thi Bui, Karen Tei Yamashita – and they signed my books! – and I also made some great new friends. And third, it was incredibly healing and inspiring to hear so many Asian Americans read their powerful poetry and short stories.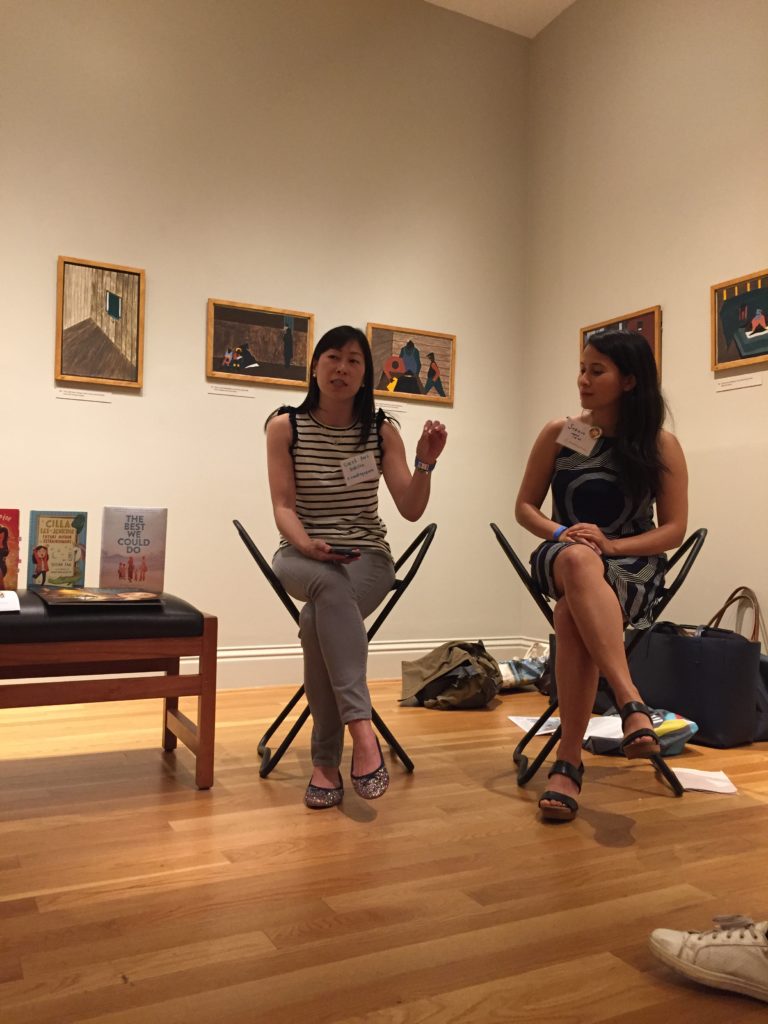 (EB): Any last thoughts?
(SPD): It means a lot that children's literature was a part of this festival. Children's literature is often the first time a reader may encounter someone whose experiences are different from theirs; as well, it is important for readers to see themselves and people like them in the literature they read. Although the body of Asian American youth literature continues to grow, it still does not receive as much attention as other bodies of work, both from a commercial and critical standpoint. Lawrence said the next festival will probably be in 2019, and we're planning to touch base soon to start planning the children's literature portions. I hope this festival will be a space where we can showcase the amazing work that our Asian American authors, illustrators, and editors have been doing in telling our stories, and where we can have rich conversations about what these stories mean not only for our Asian American communities, but for all readers.
---
Editing assistance provided by Molly Higgins.