by Jaena Rae Cabrera
Annie Pho is an Academic Resident Librarian at the University of Illinois at Chicago (UIC), where she works in reference and instruction. At UIC, she actively builds campus partnerships with the Asian American Resource and Cultural Center, the Asian American Studies Department, and the Gender and Women Studies Department, where she works with faculty and staff to investigate ways the library may best support their students. She has a Bachelor's degree in Art History from San Francisco State University and graduated from Indiana University, Indianapolis with her MLS. Her research interests include diversity and stereotypes in librarianship, playful design, and critical pedagogy in information literacy instruction.
Annie was selected as an ALA Emerging Leader for 2014 and her team's project is to assist ALCTS (Association for Library Collections & Technical Services) in determining best practices for the division's social media presence. The ALA Emerging Leaders program is intended to be a leadership development program for new library workers who have less than 5 years of experience working at a professional or paraprofessional level in a library.
On her time with APALA, Annie writes: "I've been an APALA member since 2013, so not very long! I joined because I wanted to be connected to other Asian and Pacific Islander American librarians. I attended the JCLC conference in 2012 and met many APALA members. Once I found my first full-time librarian position, I joined APALA! It's been a great experience so far.
At the last ALA in Chicago, I attended the What's Your Normal discussion and found it very valuable. I'm looking forward to attending more APALA events in the future.
APALA helped me feel connected to some of my fellow ELs, although we did not have much time as a larger group to talk to each other. Also, Melissa Cardenas-Dow, a former Emerging Leader and active APALA member, wrote my letter of recommendation for the EL program. Without her input and assistance, I wouldn't have been able to participate. She's a fantastic librarian and someone I look up to. Many of the APALA members I have been fortunate enough to work with or meet also serve as inspiration to me.
On being an ALA Emerging Leader, she writes: "I was inspired to apply because so many cool librarians that I look up to were former ELs. I didn't think I'd be accepted but I thought it wouldn't hurt to apply. I'm a new librarian and haven't gotten involved with leadership on the ALA level. I hoped the EL program would shed some light on the process and also help me understand how ALA is organized. It's a large, bureaucratic organization, and can be hard to understand the hierarchies that exist. The EL program did help me understand that. I was also hoping to meet with and work with other new professionals, and that definitely has happened.
The ALA-EL application process was pretty straight-forward but I still asked a lot of former ELs for help on my application. In particular, these two blog posts really helped me, Sarah Bryce Kozla's post So You Want to be an ALA Emerging Leader and Anita Dryden's post Emerging Leaders and Professional Involvement. I also emailed them both to ask for advice on my application. The hardest part of the application is telling a compelling story about yourself and understanding what you would have to gain from the program. I struggle to write about myself but the people reading the applications need to know what leadership potential you have, so the application is not the time to be humble. I was not sponsored by any groups but when you turn your application in, you check off the divisions you are a member of. It's a good way to get support to be an Emerging Leader.
I am working on a project for ALCTS on helping them revamp their social media presence. What is funny is that none of my EL Team members are ALCTS members but we were all drawn to this project because it's very applicable in our everyday work. We sent out a survey to all technical services library staff to get a sense of what they like or don't like about ALCTS, and how they use social media for professional development.
So far I've really enjoyed the program. I love my Team! I couldn't ask for a better group of people to work with. They are funny, smart, and dedicated professionals. Additionally, the ELs get to participate in webinars through the months between ALA MW and ALA Annual. The last one was on microaggressions in LIS, which I thought was a great topic. The best part about EL is meeting other new professionals, and that it gives you a leg up in becoming more involved with ALA. If there is a committee you want to join, or a division you aspire to be a leader in, being an EL really helps you get your name out.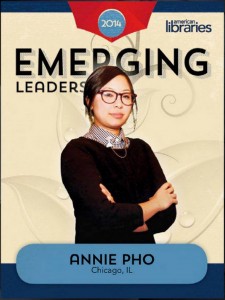 To learn more about Annie's 2014 ALA Emerging Leader project, please see ALA-EL 2014 Team C's project website.
Editing assistance by Melissa Cardenas-Dow and Alyssa Jocson.