by Peter Spyers-Duran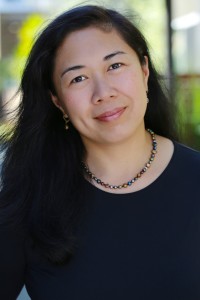 One of the featured panelists in the APALA President's Program in San Francisco, entitled Global Roots, Local Identities: Asian International Adoption and Advocacy is Catherine Ceniza Choy, Professor of Ethnic Studies at the University of California, Berkeley.  Prior to coming to Berkeley, she was an assistant professor of American Studies and a cofounding member of the Asian American Studies Initiative at the University of Minnesota, Twin Cities.  Choy received her Ph.D. in History from UCLA and her B.A. in History from Pomona College.  The daughter of Filipino immigrants, she was born and raised in New York City and is a graduate of Stuyvesant High School. She lives in Berkeley with her husband and their two children.
Choy is the author of the award-winning book Empire of Care: Nursing and Migration in Filipino American History, which explored how and why the Philippines became the leading exporter of professional nurses to the United States.  Choy's new book Global Families: A History of Asian International Adoption in America unearths the little-known historical origins of Asian international adoption in the United States beginning with the post-World War II presence of the U.S. military in Asia.
In the last fifty years, transnational adoption—specifically, the adoption of Asian children—has exploded in popularity as an alternative path to family-making. Despite the cultural acceptance of this practice, surprisingly little attention has been paid to the factors that allowed Asian international adoption to flourish. In Global Families, Choy unearths the little-known historical origins of Asian international adoption in the United States. Beginning with the post-World War II presence of the U.S. military in Asia, she reveals how mixed-race children born of Japanese, Korean, and Vietnamese women and U.S. servicemen comprised one of the earliest groups of adoptive children.
Based on extensive archival research, Global Families moves beyond one-dimensional portrayals of Asian international adoption as either a progressive form of U.S. multiculturalism or as an exploitative form of cultural and economic imperialism. Rather, Choy acknowledges the complexity of the phenomenon, illuminating both its radical possibilities of a world united across national, cultural, and racial divides through family formation and its strong potential for reinforcing the very racial and cultural hierarchies it sought to challenge.
Co-sponsored by Video Round Table
Saturday, June 27, 2015, 4:30-5:30 PM
Moscone Convention Center, 236-238 (S)
Description: APALA President's Program will feature a dynamic discussion between Dr. Catherine Ceniza Choy, a professor of Ethnic Studies at UC-Berkeley and Maria Taesil Hudson Carpenter, the City Librarian of the Santa Monica Public Library System. They will examine the issues raised by Geographies of Kinship: International Asian Adoption, a new film by award-winning Berkeley-based filmmaker Deann Borshay Liem, in the larger context of international adoption and reflect on universal questions of identity, assimilation, family, community, and advocacy. Excerpts from the film and a personal introduction especially produced for this program by Deann will be shown. The APALA President's Program is co-sponsored by APALA and VRT.
We hope to see everyone there!