by Brian Leaf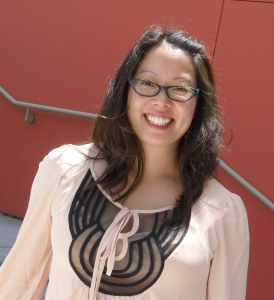 One of the featured guests in the APALA President's Program in San Francisco, entitled Global Roots, Local Identities: Asian International Adoption and Advocacy is Maria Taesil Hudson Carpenter, the Director of Libraries for the City of Santa Monica, CA. She has long been involved on the Korean adoptee scene, and we are proud to be able to highlight her accomplishments as we lead up to this must-see event.
As the Director of Libraries, Maria oversees a $12 million budget, 210 employees, and five libraries. Formerly, Maria was Director of Libraries for the City of Somerville, MA and Director of Advancement, Marketing, and Communications for Northeastern University Libraries.
She completed her Master's in Library and Information Science at the University of Pittsburgh and received her B.A. from Ohio Wesleyan U. She is a member of Phi Beta Delta, the honor society for International scholars and an American Library Association (ALA) Spectrum Scholar. She studies leadership and libraries in a doctoral program at Simmons College and is writing her dissertation on community leadership. Additionally, she is an elected ALA Councilor-At-Large and has served on committees for Asian Pacific American Librarians Association, Academic Library Advancement Development Network, Association of College and Research Libraries, and ALA. Her research has been published in College & Research Libraries, Library Management and portal.
Maria was as a long-standing member of Boston Korean Adoptees (BKA) and continues her involvement now as the Vice President of the Association of Korean Adoptees of Southern California (AKASoCal), a Southern California organization for Korean adoptees. She has visited South Korea three times, attended the 2010 Korean adoption conference, got involved with Global Oversees Adoptees Link, or G.O.A.L., and stayed at KoRoot guesthouse for adoptees.
Since my first trip back I searched for my birth family including going on television on KBS and other news outlets with no success but I have met amazing adoptee friends along the way and learned a bit more about my homeland.
In addition to her library and adoptee activities, she is also a 200-hour registered Yoga teacher and is a second degree Reiki practitioner in the Usui Shiki Ryoho tradition. In the past, she has also served on Boston's Asian American Resource Workshop, a pan-Asian advocacy group that works for the empowerment of local Asian Pacific-American community to achieve its full participation in national society.  Maria has two brothers adopted from Nicaragua and a Swedish-American sister adopted from Minnesota.
Maria believes in living a life of abundant joy and love.
Co-sponsored by Video Round Table
Saturday, June 27, 2015, 4:30-5:30 PM
Moscone Convention Center, 236-238 (S)
Description: APALA President's Program will feature a dynamic discussion between Dr. Catherine Ceniza Choy, a professor of Ethnic Studies at UC-Berkeley and Maria Taesil Hudson Carpenter, the City Librarian of the Santa Monica Public Library System. They will examine the issues raised by Geographies of Kinship: International Asian Adoption, a new film by award-winning Berkeley-based filmmaker Deann Borshay Liem, in the larger context of international adoption and reflect on universal questions of identity, assimilation, family, community, and advocacy. Excerpts from the film and a personal introduction especially produced for this program by Deann will be shown. The APALA President's Program is co-sponsored by APALA and VRT.
We hope to see everyone there!