by Melissa Cardenas-Dow
You may remember Raymond Pun when he was still working at The New York Public Library. He also wrote a "What's Your Normal?" essay for APALA that was published in May 2013. Since then, Ray, as he wants to be called, has moved to Shanghai, China, where he now works as a reference and research services librarian for the New York University campus there.
Of the beginnings of his librarian career, Ray writes: "I've been working in libraries since 2006 as an undergraduate intern and student worker. And like many people that I know, I just fell into the career of being a librarian. I was encouraged by my mentors in college to pursue a degree in library science since I was already working in one of the best research libraries in the world: The New York Public Library: Stephen A. Schwarzman Building.
I went to City University of New York: Queens College for my MLS, and then later received an MA in East Asian Studies from St. John's University, my alma mater. Initially I was getting an M.A. in Middle Eastern Studies, but due to the rise of the Arab Spring and ongoing conflicts in the Middle East (particularly in Egypt and Syria where I wanted to study), it just didn't seem like a viable idea to pursue that course of study since I wouldn't be able to visit those countries at all. So I switched regional studies. Maybe in the future I'll go back to finish up my M.A. in Middle Eastern Studies.
For my first professional job, I was promoted as a librarian in NYPL in 2010. Later, I was encouraged to apply for the ALA-EL program and for my current position as a reference and research services librarian in New York University Shanghai in China. I'm currently in Shanghai, collaboratively building the library collections and services to support the NYU community. It has been a fascinating experience and a great opportunity to start a new job and work abroad in a startup environment.
Since moving to Shanghai, Ray has scaled back his involvement with APALA. Of his most recent involvement in APALA, Ray writes: "Most recently, I've contributed articles to the newsletter and content for the website, volunteered my time to represent APALA in the exhibition booth at ALA annual and APALA's poster in the ALA Diversity and Outreach Fair. I've also managed to talk to people about the benefits of joining APALA and it has worked! So in that sense, I've been an "unofficial ambassador" for APALA. Since I am working abroad, it can be tricky to coordinate my involvement with the organization. Soon, I hope to be more active!
When asked about his decision to apply to the ALA Emerging Leaders program, Ray says: "I decided to apply to the ALA-EL program because I was interested in working on a group project that extended beyond my workplace, but I didn't know I would also be moving to China at that time. It became a "global project collaboration," in that sense. In the beginning, I also didn't think I could pull it off, but I did and it turned out to be a very good learning experience. I found out about this program, maybe 3 years ago, from NYPL colleagues who also went through the ALA-EL program. They said it was a good way to learn more about ALA and its leadership structure. I thought about being more active in ALA, but didn't know where to begin so the ALA-EL program seemed like a good start.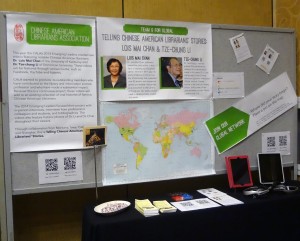 Ray worked with fellow APALA member, Monnee Tong, on the same ALA-EL project. "For my EL project, my team and I worked on an oral history video featuring two prominent Chinese American librarians who have contributed a lot to the profession. Since my project was sponsored by CALA (Chinese American Library Association), this was timely and appropriate. The two librarians are Dr. Lois Mai Chan from University of Kentucky and Dr. Tze-Chung Li from Dominican University. My project specifically focused on Dr. Lois Mai Chan. We interviewed her and some of her former students about the influence and impact Chan had on our profession. It was a lot of work, but it was also fun and rewarding. I worked closely with Monnee Tong from San Diego Public Library. She was my partner in crime on this video project. She was great to work with!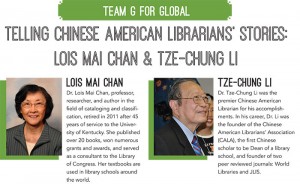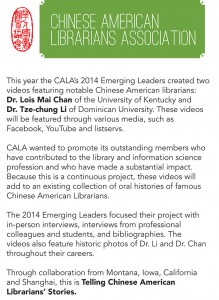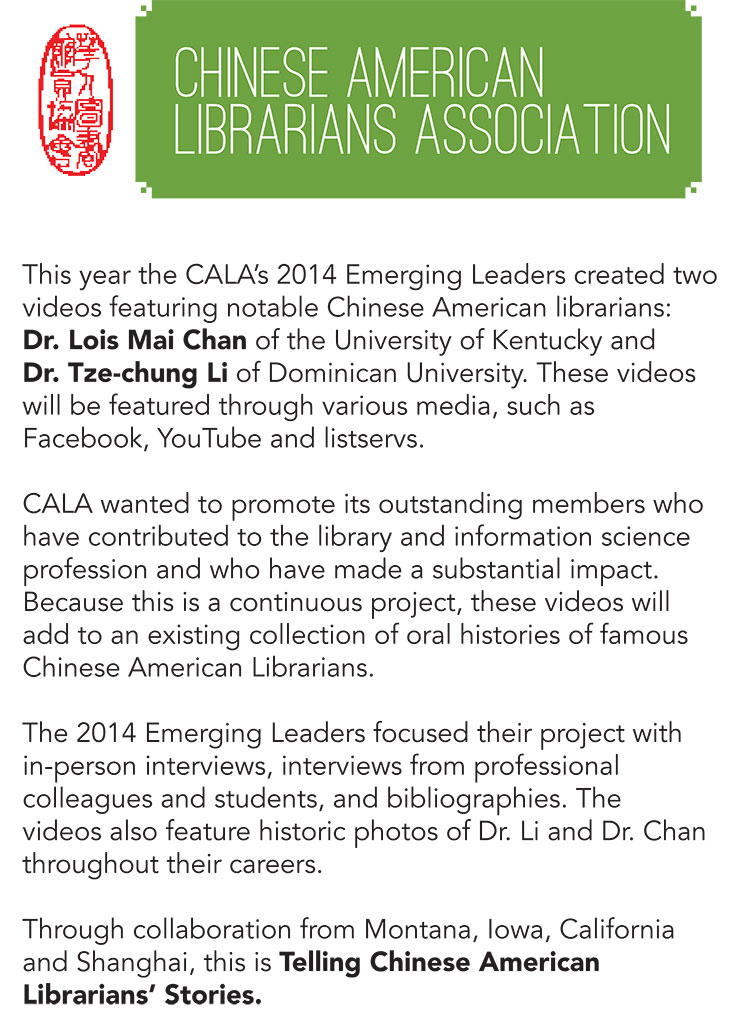 We asked Ray if he could give advice to anyone aspiring to take part in the ALA-EL program. He writes: "I would say — just apply for it. It's good to apply for things and learn about different application processes. And if you get accepted (great!) but not get sponsored by an association, you should still participate if you can. The way I see it, ALA-EL provides a little bit of networking, resume/CV boosting, but there's definitely a strong learning component. If you are interested in designing a project and working in a collaborative team, then this is perfect for you because you'll learn a lot about teamwork, communication, leadership, and project and time management. All of these are great experiences to put on your resume/CV, but also great interview stories to tell future employers.
For your ALA-EL application, focus on something unique about yourself–what do you think you are doing or can provide that many people can't? What are some challenges and obstacles that you overcame? Those character-defining moments can make you really stand out from a pool of applicants. Being part of APALA also gives you a wide connection to people who have participated in the EL program. They can give you advice on your essays, look over your resume/CV, or help brainstorm as well. So you aren't alone in the process!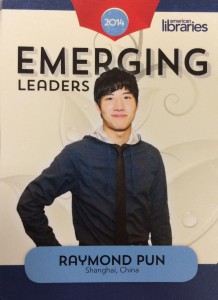 Ray was one of two CALA-sponsored 2014 Emerging Leaders.
Thank you very much, Ray. APALA is very proud and lucky to have you in our association. We look forward to your continuing involvement.
Editing assistance provided by Jaena Rae Cabrera.