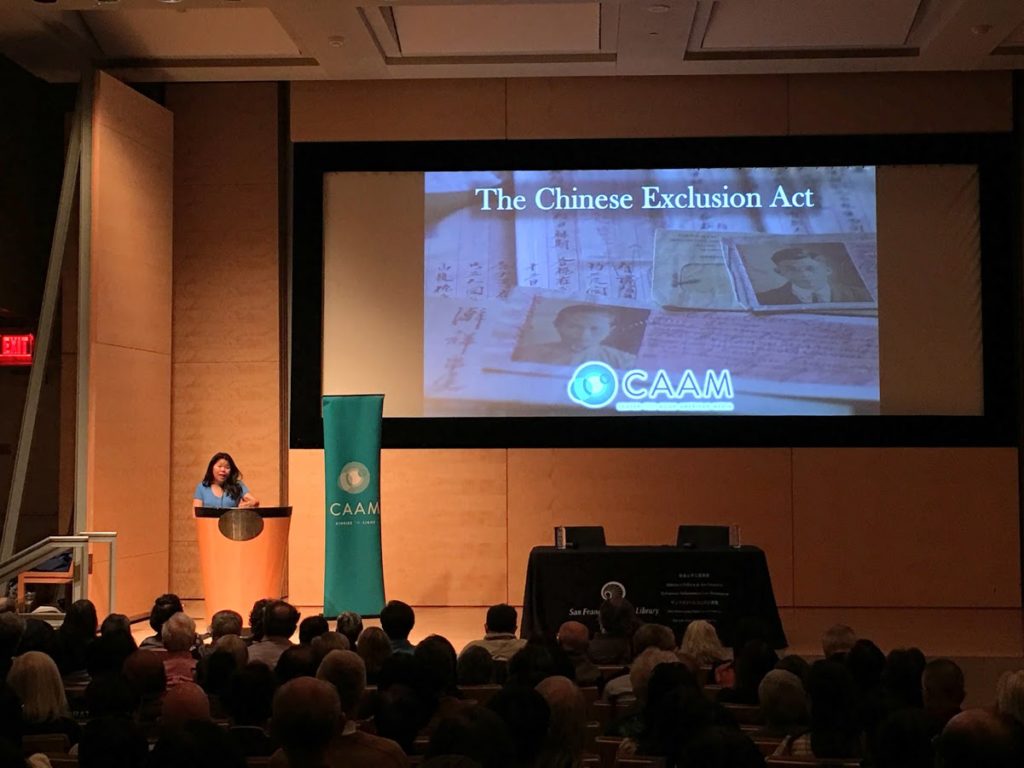 History has an uncanny way of repeating itself, and although it is said that we learn from our mistakes, we often fail to rectify the error of our ways.  For one, here in the U.S., the historical treatment of immigrants who land upon the shores of America persistently replays vicious cycles of exploitation and racial abuse.
On May 6, 1882, former President Chester A. Arthur signed into law a federal legislation passed by Congress that barred an immigrant group from entering the U.S. based exclusively on race.  Known as the Chinese Exclusion Act, this law singled out Chinese immigrant laborers from coming to America.  On the 135th anniversary of this infamous act, the Center for Asian American Media (CAAM) launched the west coast premiere of Ric Burns and Li-Shin Yu's "The Chinese Exclusion Act" at CAAM's International Film Festival.  It was the closing night of the festival, and the historic Castro Theatre in San Francisco housed over 1,400 attendees, drawing in city officials, educators, community leaders, and members of the public who came to watch the film.
On May 27, 2017, the San Francisco Public Library hosted an encore community screening of this monumental film—a thoroughly researched and riveting documentary delineating the origin of this discriminatory federal law and its impact on American history.  Scheduled for an afternoon showing, people came from the peninsula and south and east bay counties, lining up several hours in eager anticipation.  As the doors of the auditorium opened half an hour early, scores of patrons swarmed right in, packing the venue till only standing room remained available.  Imagine an auditorium that can seat only 235 people, then cramming that with nearly 300.  This event attracted many people—both young and old—from all walks of life, for it resonated closely with the headlines in today's news.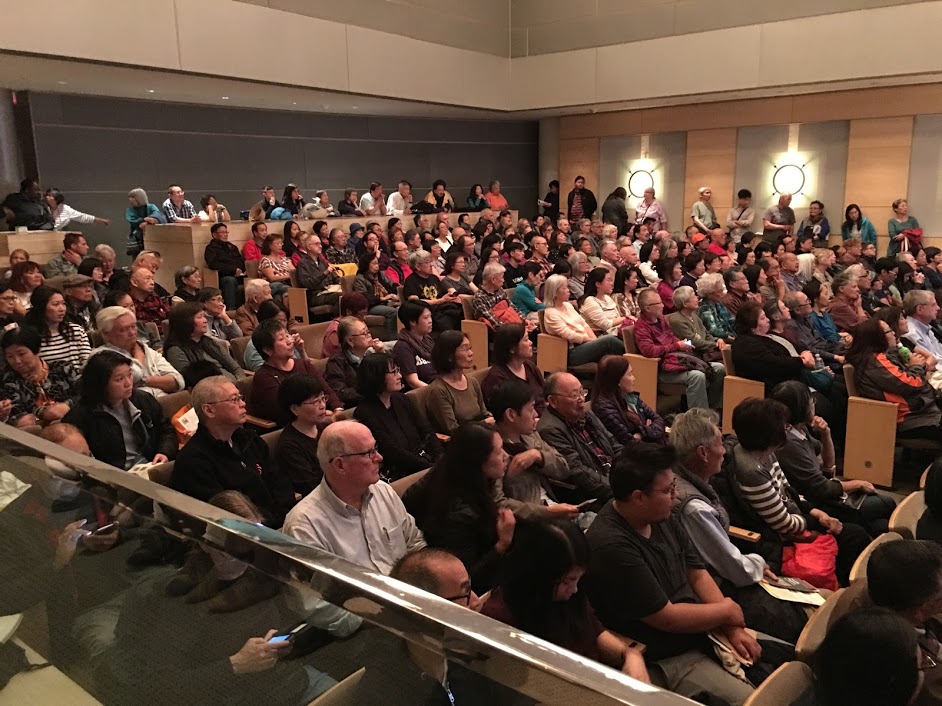 The film begins with a scene at the base of the Statue of Liberty—an American icon symbolizing a nation of immigrants and refugees who, to this day, still seek sanctuary upon reaching its shores.  Narrated by a multiplicity of historians, educators, scholars, and community leaders such as Ling Chi-Wang, Erika Lee, David Lei, Kevin Starr, Jean Pfaezler, and many others, the film unfolds through a panoply of first-person interviews, intimate narratives, haunting photos, historical film footage, and an eclectic array of artifacts.  Clocking at 150 minutes, the film traverses the Gold Rush Era, Exclusionary period, World War II, and the Red Scare, documenting each period with emotional depth and conviction.  Since Chinese immigrants were denied their civic rights, they challenged the oppressive discrimination to which they were subjected.  Utilizing the American legal system to combat social injustices, they filed over 10,000 lawsuits in the federal courts with approximately 20 escalating to the U.S. Supreme Court.  Whereas American history textbooks fail to address this relentless spirit of resistance, the film compensates by highlighting these neglected details, testifying how Chinese Americans upheld the core values of equality for which this nation symbolizes.
A Q&A session followed the film, featuring community leaders such as Jennifer Chu (CAAM membership manager), David Lei (CAAM board member and community advocate), Irene Collier (teacher, The Association of Chinese Teachers –TACT), and Sue Lee (former executive director, Chinese Historical Society of America – CHSA).  Jennifer Chu invited the Asian American community to share their personal stories through home movies via the Memories to Light project; David Lei discussed the importance of raising historical awareness for younger generations; Irene Collier emphasized the vital need to incorporate suppressed Asian American histories into educational curricula on a national level; Sue Lee highlighted the CHSA's mission to preserve and document Chinese American history for posterity.  The underlying theme among all presenters was clear:  Advocating for community engagement to preserve and honor the past was imperative to instigating positive social change, for only by telling these counternarratives to the public at large will people come to a deeper understanding of the truth.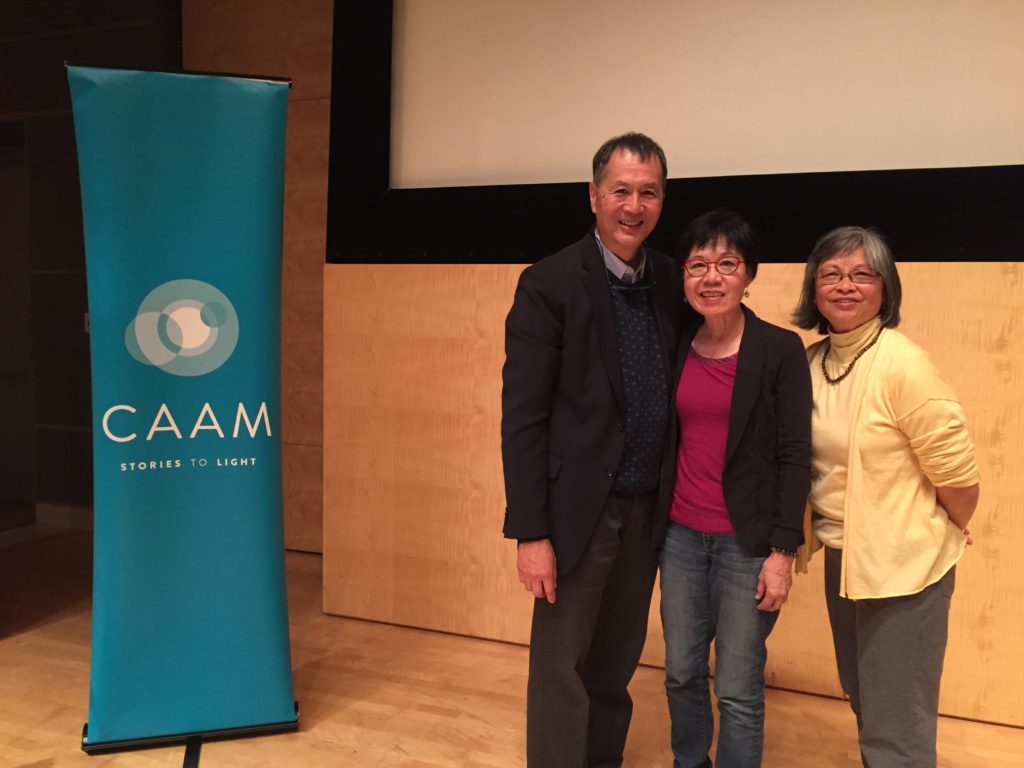 Lasting for well over 60 years, the specter of the Chinese Exclusion Act continues to haunt the American consciousness, from the mass media that generated unparalleled paranoia against Japanese Americans during World War II to the violence and fear against Middle Easterners and Sikh communities in the wake of the  9/11 terrorist attacks.  More recently, the travel ban against select Muslim majority countries feeds into yet another form of American xenophobia.  In the words of historian Mae Ngai during this time of moral urgency, startling parallels emerge: "This [documentary] couldn't come at a more important time in our country . . . because it tells a story, it tells our story.  It shows what was done to our people, but it is also relevant to our present moment, and what is going on today, with anti-immigration laws and prejudices and what's going on with the Muslim ban. They all have their roots, legally and politically in Chinese exclusion."
The paradox of America and by extension the American Dream, lies within the complicated politics surrounding immigration policies.  Historian and professor of history Erika Lee at the University of Minnesota notes how this duality—of receiving immigrants openly and offering them an opportunity to pursue the American Dream—is also fueled by deep-rooted fear and xenophobic sentiments.  In producing "The Chinese Exclusion Act" in conjunction with CAAM, Ric Burns and Li-Shin Yu have taken a critical step in working on this outreach project to ensure it gets inculcated into our educational system. This grand endeavor also includes a community and educational outreach program that you can join.  This documentary is expected to have its PBS broadcast premiere on the critically acclaimed The American Experience series in early 2018.
Organizational Resources