A Display Created by the Sacramento State University Library Special Collections & University Archives
By Melissa I. Cardenas-Dow, Social Sciences Librarian, Sacramento State University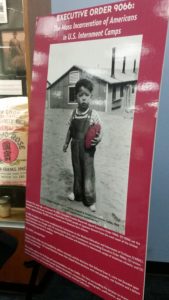 On Friday, February 17, 2017, the Special Collections & University Archives Department of the Sacramento State University Library opened a new display commemorating the 75th Anniversary of Executive Order 9066, the E.O. signed by U.S. President Franklin D. Roosevelt on February 19, 1942 that led to the forced removal and incarceration of hundreds of thousands of Americans of Japanese descent who lived along the Pacific coast.
In the announcement that went to the Sacramento State University community, the exhibit is described as "illustrat[ing] the facts surrounding the decision to incarcerate Japanese Americans, using documents, correspondence, photographs, publications, and other primary source material from Sacramento State's American Archival Collection." Attended by members from the Sacramento Japanese American community and the Sac State University community, the exhibit opening was intimate and poignant.
Julie Thomas, Archivist and Special Collections Librarian at Sac State University, thanked the attendees, many of whom had made the exhibit possible through loans of personal and heirloom artifacts.
James Fox, Unit Supervisor of Sac State's Special Collections & University Archives, marked the exhibit opening by stating that "through primary sources, we are able to test the truth." Fox further remarked on the present-day significance of the commemoration of the Japanese American internment, stressing our moment in history as being "post-truth" and filled with "alternative facts." In light of the recent Executive Orders and federal policies hostile to immigrants and refugees, the remembrance of Executive Order 9066 is especially meaningful and important.
The exhibit is located on the second floor of the Sacramento State University Library and is open to the public.
More images from the display are available on APALA's Facebook page.