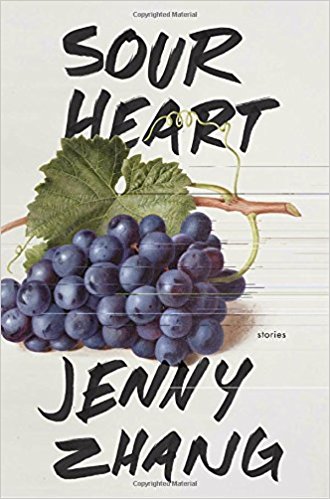 Sour Heart by Jenny Zhang
August 2017, 320 p., ISBN 0399589384
Jenny Zhang's Sour Heart is a collection of seven loosely-related short stories set in the 1990's that explores the lives of Chinese immigrant families in New York City. While the female narrators have distinct voices, they all share a sense of self-awareness, anxiety, and loneliness in navigating the challenges of growing up, as well as the complexities of familial and social relationships.
In "We Love You Crispina," the first story in the collection, Christina's housing situation is constantly in flux as her family struggles with shady landlords, sudden building collapses, and crowded illegal rooms shared with other immigrants from China, whose lives are later explored in subsequent stories. It is immediately clear that the tales to follow take place in a world far removed from the quiet suburbs often occupied by affluent Chinese immigrants on the opposite coast.
"The Empty the Empty the Empty" stands out as the most disturbing of the stories. Frangie, an awkward young girl taken in by the family of self-proclaimed fourth grade beauty Lucy, becomes the unknowing victim in a highly unsettling and abusive sexual experiment conducted by pre-teens. While the story is difficult to digest, it addresses the devastating reality of peer pressure that adolescents have always faced.
The weight of generational gaps is also threaded throughout the collection. In "The Evolution of My Brother," Jenny is determined to free herself from the comfort of family routine, particularly her relationship with her clingy younger brother. In "Why Were They Throwing Bricks?", a once beloved grandmother finds herself increasingly unwelcome during her multiple long-term visits to America as she witnesses her fully assimilated grandchildren's failures to grasp the lasting effects of her wartime trauma.
Zhang's subtle approach in connecting the stories is impressive. An offhand mention of  Christina (in one instance, alluded to as a child who was "screaming all night about needing to scratch her legs") or a reference to any of the other neighborhood girls from a previous story is an effective tool that assimilates the reader into this somewhat insular community. The attention to detail written into the lives of the characters makes Sour Heart a highly likely re-read. Zhang also excels at inserting just the right dose of 90's Chinese-American nostalgia, with scenes of late-night Cup Noodles eaten with family, karaoke renditions of Teresa Deng's "Yue Liang Dai Biao Wo De Xin," and parents letting their children order drinks to accompany shared steak and salad bar orders at Sizzler while refusing to spend extra money for their own beverages.
Though Zhang's prose is colloquial and crude at times, the language is never gratuitous. While many colorful four-letter words abound throughout the text, her characters are as unfiltered, honest, and authentic as they deserve to be.
---
Review by Amanda M. Cheung
Reference Librarian, Santa Monica Public Library